By Lauren D'Alessandro, March 29, 2017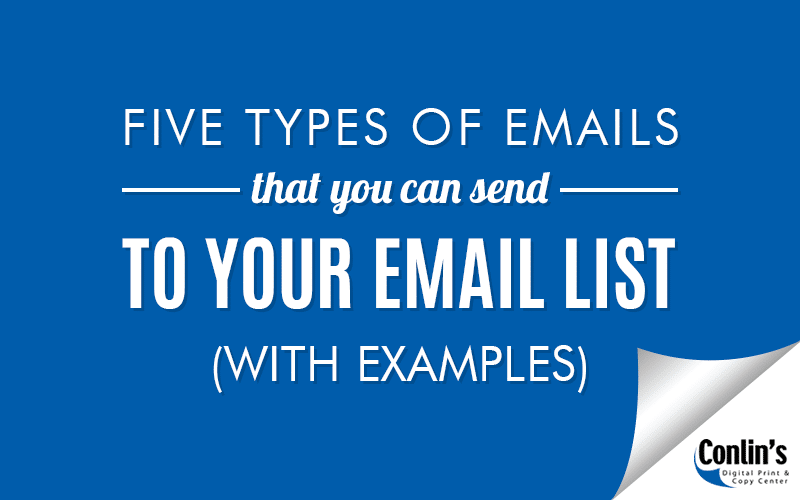 Coming up with consistent, high-quality content for your email blasts can be a challenging task. With so many emails flooding our inboxes, catching customer attention and keeping it is more difficult than ever. The key to being effective in this medium is having a well-defined plan for your content!
Before you plan your email blast, it's important to ask yourself two questions:
1. What am I GIVING the recipient through this communication?
2. What is my GOAL for this email?
For your recipient to invest their time reading and reacting, they need to be receiving something of value. Here are a few things your email could be giving:
Useful information
Inspiring idea
Sense of connection
Storytelling / emotional appeal
Opportunity to be heard
Useful product or service
Refill or renewal reminder
It's important to define your goal for the email. This will help you design more effective and targeted content. Here are a few possible goals:
Sell product
Build trust
Retain clients
Get donations (for non-profits)
With your answers to these questions in mind, here are five types of emails you could be sending, complete with examples. This is by no means an exhaustive list, but we hope it inspires you and gets your creative juices flowing.
1. Deals and/or Coupons
Company: Shutterfly Free Photo Book
Subject line: ENDS SOON. Your free photo book is waiting
Shutterfly regularly offers coupon codes for FREE 8×8 photo books. This is a great way to encourage new customers to try their service risk free. They also offer savings on photo books of other sizes.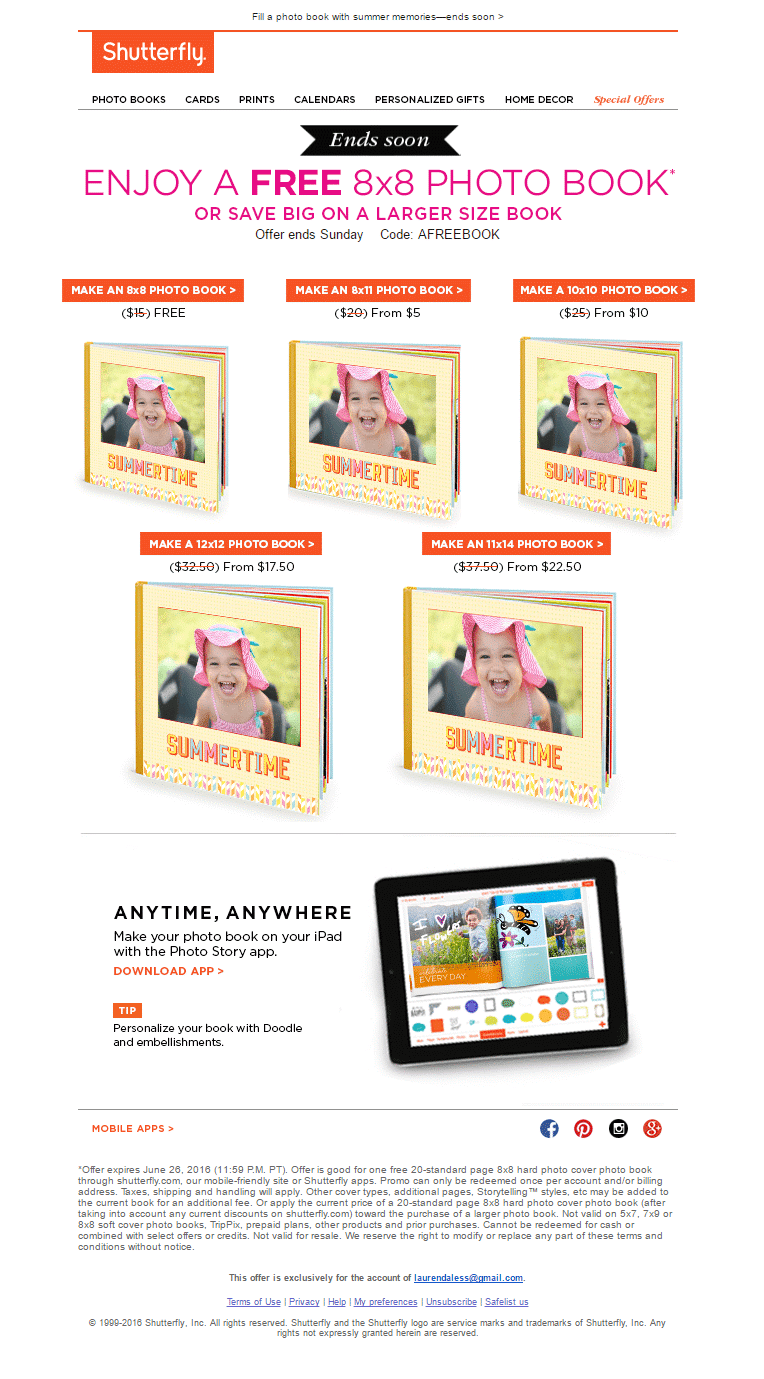 Company: Creative Market Holiday Sale
Subject line: This Week Only! Save 20% on Your Favorite Design Assets
This email for Creative Market offers a 20% discount on holiday purchases. The line, "Limited Time Offer. Redeem Now" with the clock symbol reminds the reader that this is a time sensitive offer and creates a sense of urgency. This urgency is reiterated several times throughout the offer.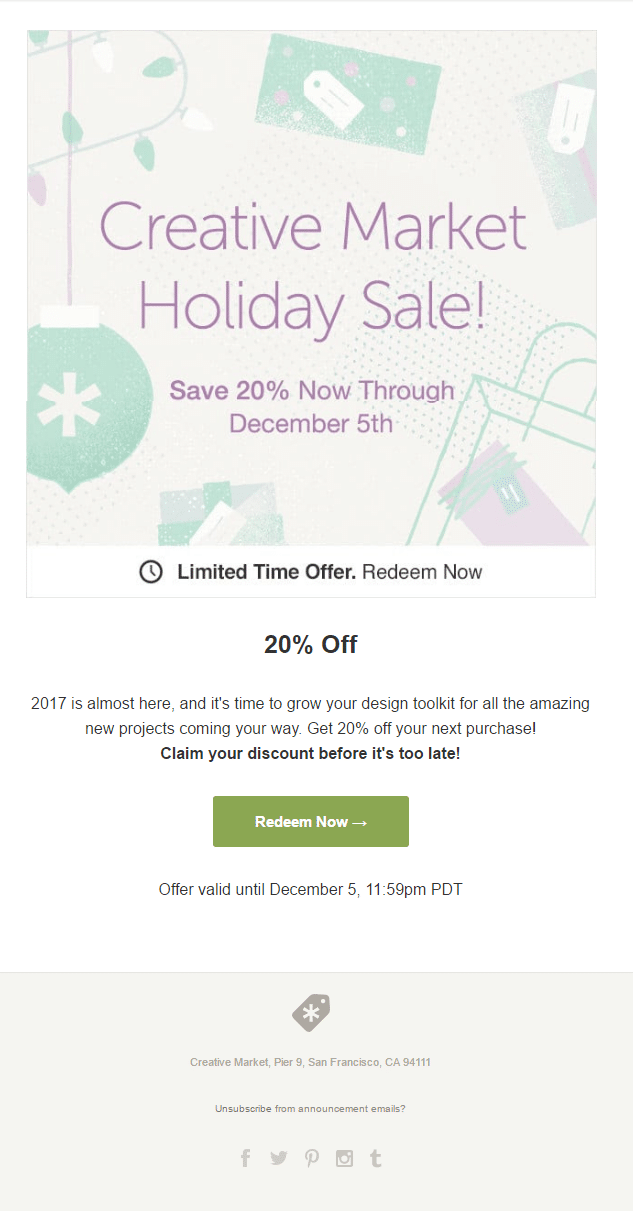 2. Personal Note
Company: HubSpot
Subject: The Ultimate Guide to Inbound Scope Creep
I love the tactic that HubSpot uses to send out their email communications. They could easily have sent out this information as a newsletter or using a branded template, but instead they opted for what appears to be a personal email sent by one of their marketers.
This works well for several reasons. Seeing Kacie's name and face with each email creates a personal connection and a sense of familiarity that would be lost if the emails were sent using a typical template. The tone and language of the email give the recipient a feeling that they are receiving helpful information from a friend or colleague (rather than an impersonal marketing email from HubSpot).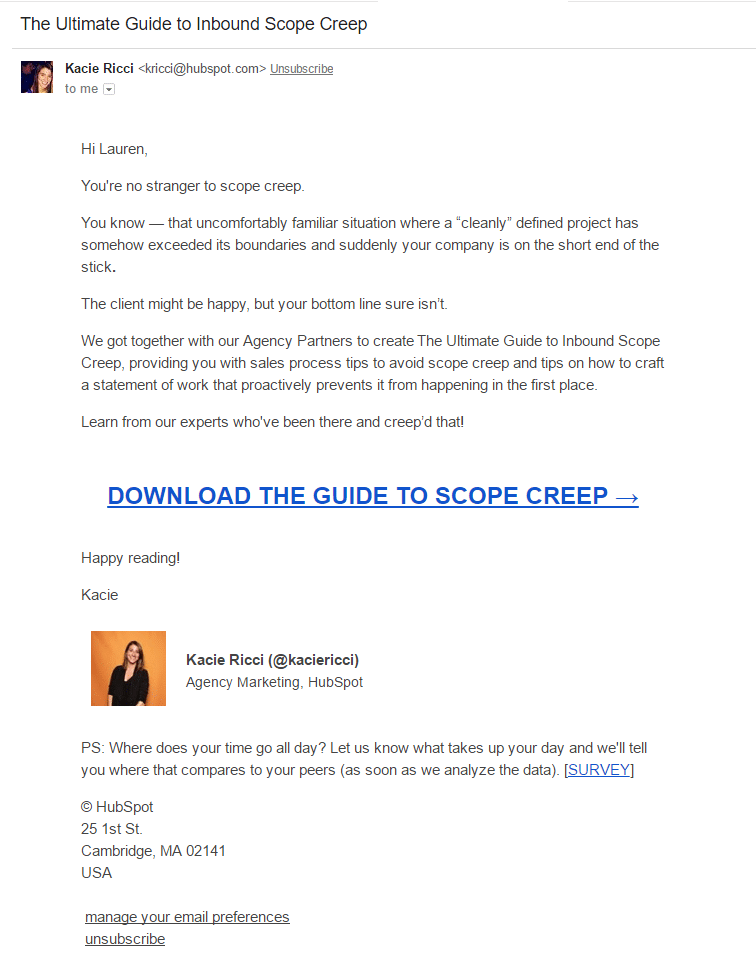 3. Newsletter
Many e-newsletters sent by companies are formatted much like a newspaper – there's a main article at the top (a letter from the founder, a company updates, or a featured article) surrounded by a variety of smaller updates and links. A newsletter generally has the same template and features from month to month and that template is simply updated with the newest content.
Company: MyFonts.com
Subject: Creative Characters Interview with The Foundry
MyFonts.com has a great monthly newsletter that features interviews with designers. This newsletter goes beyond the regular "company update" and offers content that is unique and genuinely engaging.

4. Article or Resource list
This allows your reader to scan a variety of headlines and offerings and click on the one that's most relevant to them. This is a good option if you are regularly generating a large quantity of new content or if you have an audience with a wide variety of interests. Bloglovin uses this kind of template to send their subscribers a list of recent blog posts. Yummly uses it to share recipes, and Creative Market uses it to share an array of recently added resources.
Company: Bloglovin
Subject: 7 Ways To Organise Your Clothes Like A Minimalist, Winter Basics Everyone Needs & other inspiring stories

Company: Yummly
Subject: Make-Ahead Meals

5. Useful tips
Company: Wegmans
Subject: Wegmans-A new EZ Meal idea!
Wegman's often sends meal suggestions to their email list. If you were a busy person preparing to make a shopping trip, this offer might be really appealing. It's a quick and easy way to make up your mind about dinner and it allows you to add the item to your shopping list. It takes everything a step further by suggesting additional items that pair well with the first one.

For even more email ideas and resources, check out How to Create Effective Content for Your Email Newsletter (With Downloadable Email Checklist).
Get Printspiration sent right to your inbox
Plus instant access to our FREE template library!