By Conlin's Digital Print & Copy Center, October 26, 2020 | Marketing, Products & Services
Wedding Merch – Couples around the world are embracing changes caused by Covid-19 and are still getting married, in spite of having more intimate gatherings. This phenomenon has brought forth creative ways to utilize promotional products. What can I say… we all want to spread love, not germs.
Wedding branded swag serves as everything from gifts to attendees to laments on nuptials that the pandemic sadly postponed.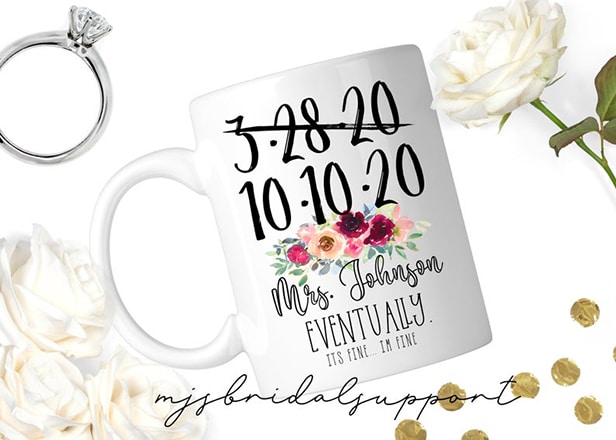 As it has with seemingly every facet of life, Covid-19 has disrupted wedding calendars across the globe. Accordingly, there have been compelling postponements to complicating weddings that proceed. The coronavirus pandemic has caused chaos for couples keen to tie the knot. Although, that did not stop them creatively!
Wedding Merch – Promotional Products Perspective
First of all, wedding merch already had a great lead in the promotional product market, but once Covid-19 hit it exploded. In fact, there's been a wealth of COVID-themed wedding branded merchandise hitting the market. Serving as a unique cultural sign of the times, the moment merch's messaging does everything from lament delayed nuptials to depict bride and groom in masks to acknowledge weddings that have proceeded under the pall of the pandemic.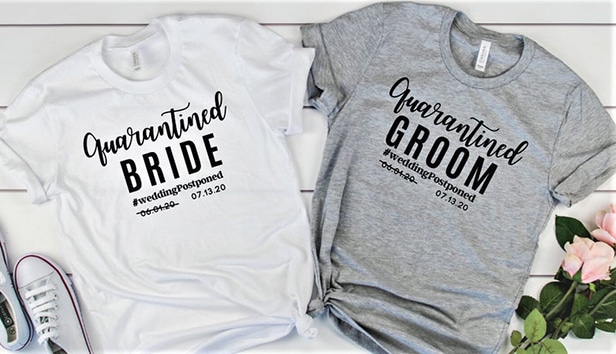 Available on our promotional product site, wedding-themed merch comes in the form of everything from T-shirts, travel tumblers, mugs and wine glasses, to candles, Christmas ornaments, face masks, hand sanitizer and more. Terms like "Corona Bride" and "Quarantine Groom" appear time and again across the products.
Merch for canceled wedding abounds. Many products take a humorous approach in their messaging.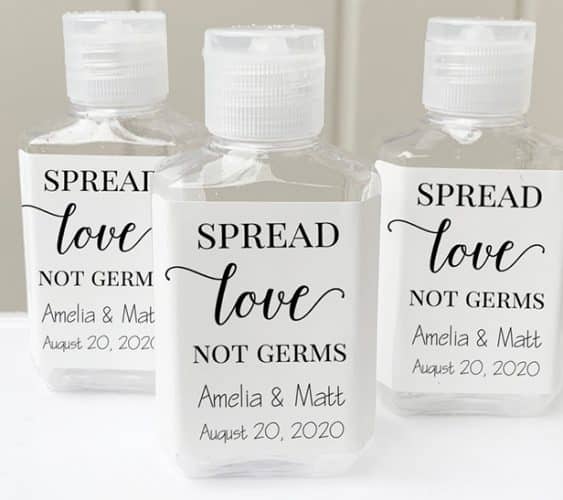 For example, "Spread Love Not Germs," has become a staple phrase.
Below are some of our favorite ideas. Happy Planning!
Wedding Merch Ideas
Christmas Ornaments
Cancelled Date Mugs
Hand Sanitizer Favors
T-Shirts & Apparel
Face Masks

Suggestions for masks include monogrammed masks for bridesmaids and/or customized masks that feature a couple's monogram, wedding hashtag, and more that can be given to guests.

Drinkware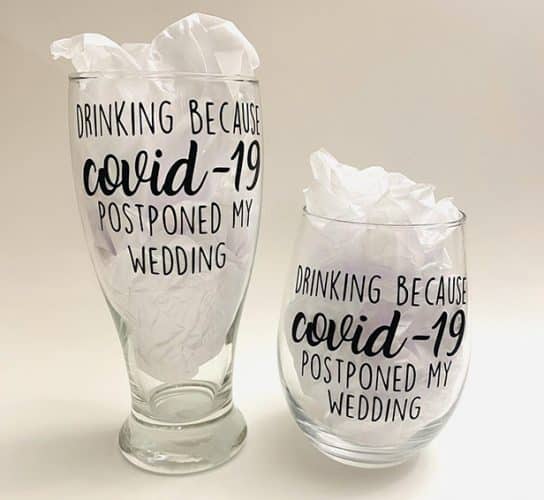 The above products and many more items seem to indicate there's a market for wedding merch that addresses the Covid-19 phenomenon.
As always, if you need help with any of your projects, contact us at kingofprussia@conlinsprint.com or 610-337-4460. Visit our Promo Store for more ideas!
Written by
Heather Fesmire
Digital Marketing Coordinator
Conlin's Print
Original Content Pulled from
"COVID-Themed Wedding Merch Abounds"
Written by Christopher Ruvo
Get Printspiration sent right to your inbox
Plus instant access to our FREE template library!