By Lauren D'Alessandro, May 16, 2019 | Marketing
The Life Sciences Spring Social is an annual networking event hosted by Life Sciences PA. This year, the event was attended by me (Lauren, below left) and our graphic designer Sabrina (below right).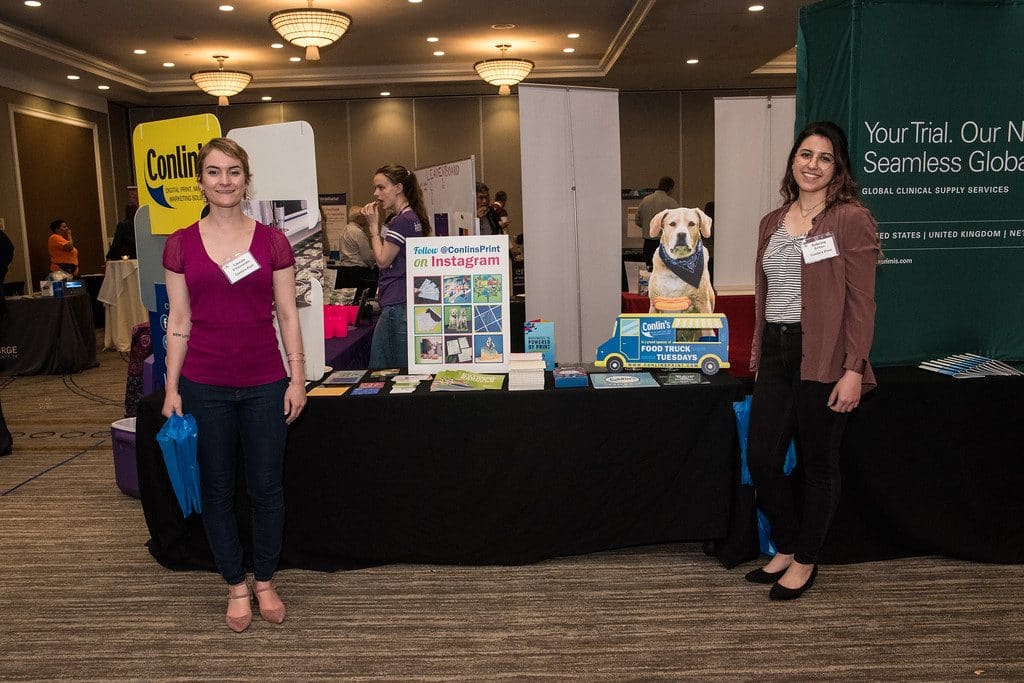 Attending a marketing event was a last minute decision – which means that the items we displayed in our booth were also last minute!

Here are our tips for pulling together an effective trade show booth on a tight deadline.
1. Repurpose Materials from Past Events
Besides saving money, re-using old materials is always the greenest option. For signage, I grabbed a few panels from our signage tower to stack on our tabletop. If you have a pop-up or fabric banner, these are a great option for creating re-usable branded piece.
2. Print a Few New Pieces, But Keep Them Simple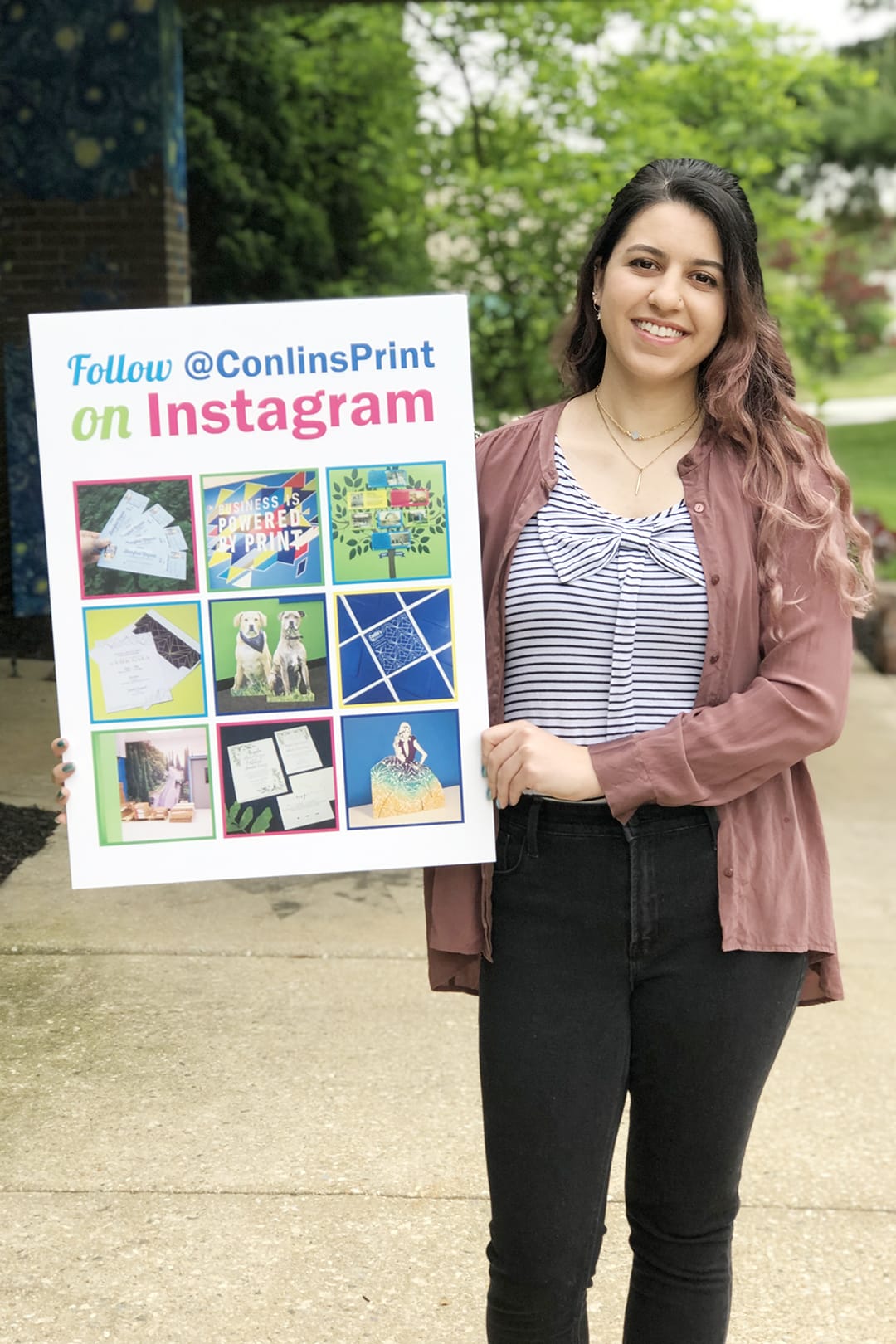 Since we had a time-constraint, we printed just one new piece of signage — this foam core Instagram sign. Foam core is an inexpensive option for signage that will only be used a few times. A simple easel affixed to the back kept this piece standing tall. It's also quick and easy to print!
3. Pay Attention to Your Business Cards
We gave our business cards a quick spruce up just before the event. We kept the front of the cards simple, but added a geometric silver ink pattern to the back of the card to make things pop!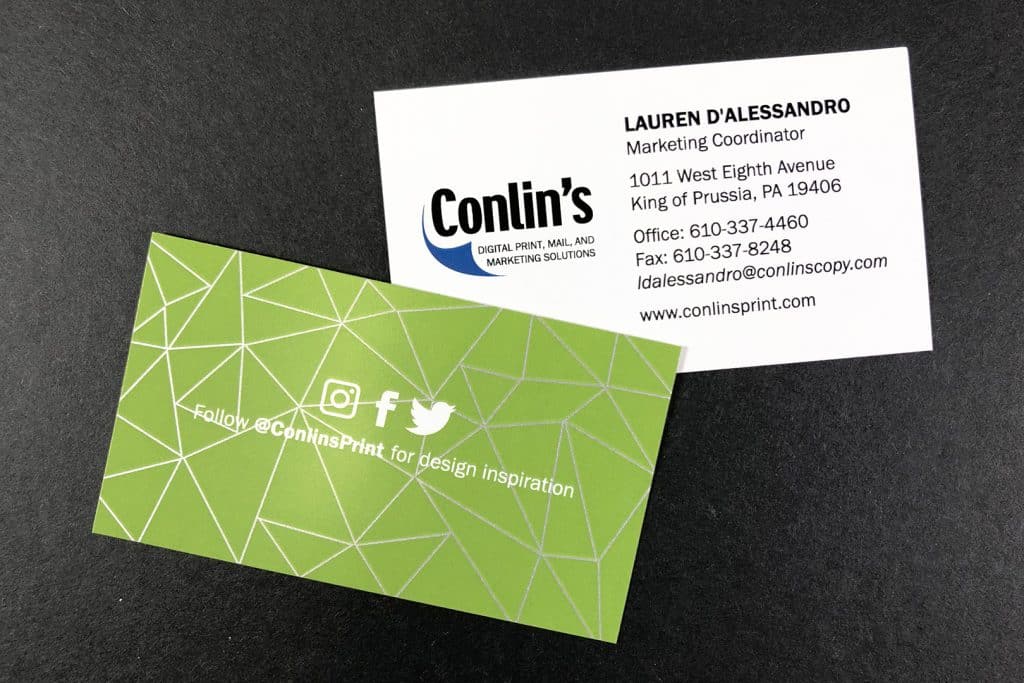 One change we want to make is that we'd like to start printing them on a heavier stock. We received cards from other attendees and stashed them in our back pockets. The heavier stocks held up, while the thinner cards started to crease. Every choice you make during the printing process makes a difference!
4. Bring Samples of Your Product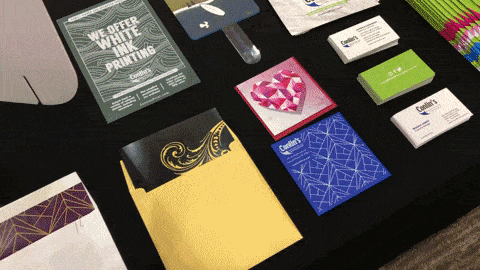 We filled the top of our table with a display of some of our favorite printed material samples. We chose a variety of designs that showcased the full array of products and services we offer. Having visual examples of what we do was a great conversation starter.
5. Give Away Free Stuff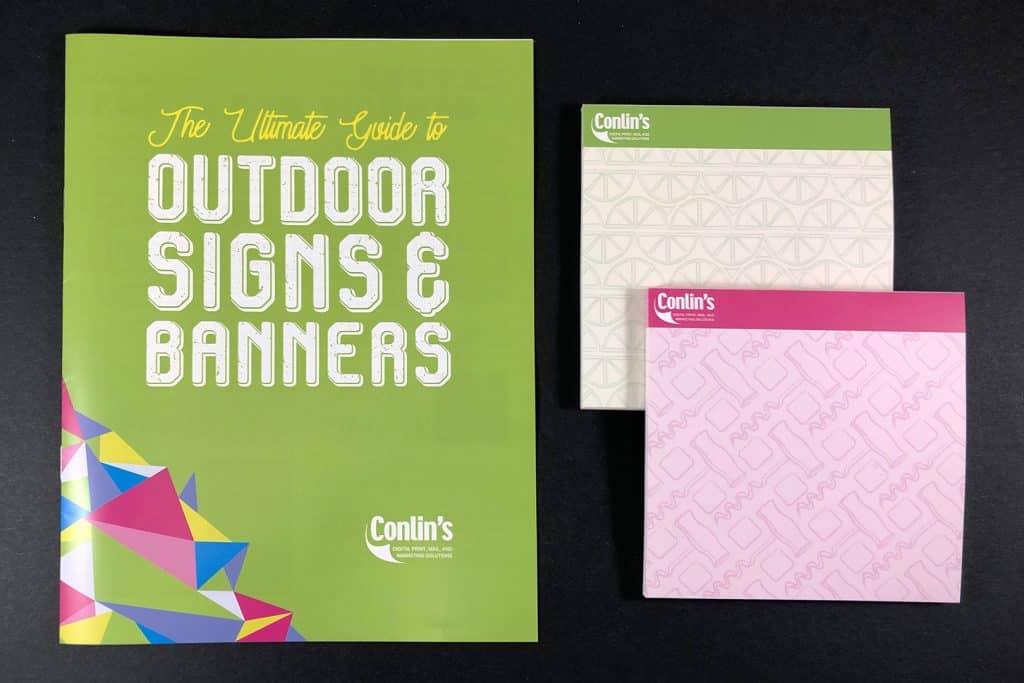 Since we are a printer, the quickest freebie is something we can print in house. These fruit and wine themed notepads were the perfect solution! We re-purposed illustrations from a recent packaging project and were able to have these notepads printed and bound in half a day. We gave these away in blue plastic bags along with a copy of our most recent direct mail newsletter.
6. Learn Something New at Every Event
We noticed that a lot of other booths had fun, interactive games that people could play if they left their business cards in a jar. We definitely took note of this idea and plan to develop something similar for our booth the next time we attend an event like this. Every trade show is a opportunity to learn something new and fine-tune your sales presentation!
Get Printspiration sent right to your inbox
Plus instant access to our FREE template library!