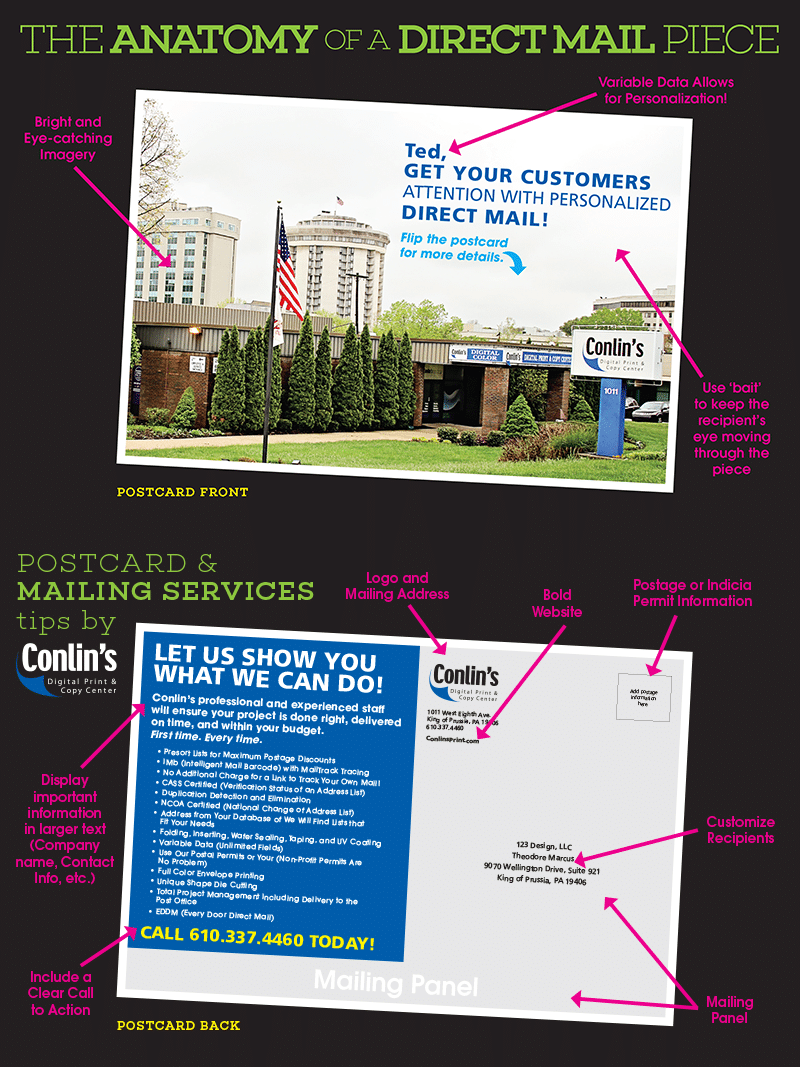 There's a lot that goes into the design of a direct mail piece. Not only do certain elements (such as the address and indicia) need to conform to post office standards, but there's also a bit of a science behind the design. The size, colors, and verbage you choose all determine the effectiveness of your message.
Here are a few important points to remember when designing for direct mail:
1. Use personalization
Variable data allows you to customize your mail in a variety of ways! In our example below, we've added the recipient's name to grab their attention. But you can even customize imagery, colors, and other text based on factors like age, gender, occupation, and more.
2. Make important information larger
Your company name, a compelling headline, and your phone number should always be larger - those are the most important parts of the mailer, and you want them to get noticed. The more important the information, the more prominently it should be displayed on your direct mail piece.
3. Have a clear call to action
When designing the mailer, think, "What action do I want the recipient to take after reading this piece?" You might ask them to visit your website, call for a quote, or inquire about a new product. Whatever that action is, everything on the card should be designed to drive your customer to do that.
If you have to many calls-to-action or if the call-to-action is too small, they are far less likely to respond. Make it big and bold, and make sure that the information they need to take that action is clearly provided. For example, don't say, "Call today!" and then make the phone number small and obscure. Instead, say, "Call 555-555-5555 today for your free quote!"
Need design inspiration? Check out our Direct Mail board on Pinterest for our favorite creative direct mail pieces!