By Lauren D'Alessandro, June 5, 2019 | Marketing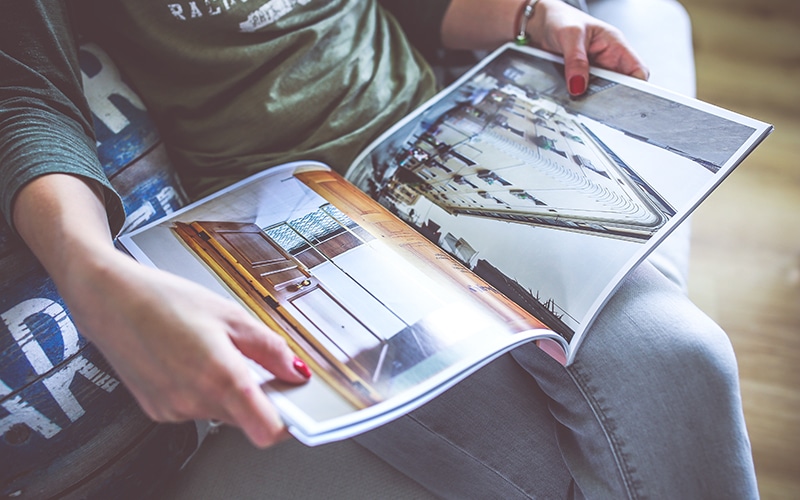 The Content Marketing Institute defines content marketing as "a strategic marketing approach focused on creating and distributing valuable, relevant, and consistent content to attract and retain a clearly defined audience — and, ultimately, to drive profitable customer action." [source] This often occurs digitally through blog posts like this one. However, printed materials distributed through direct mail can be just as powerful of a content marketing strategy – if not more powerful when you consider that print has a higher engagement level than digital.
At Conlin's, content marketing is a big part of how we engage with our customers. Besides publishing online, we send quarterly direct mail newsletters that contain printed versions of the articles we write. Our Best of Local piece from a few years ago was a project that generated a strong response. From our experience, we've found that this marketing tactic has powerful benefits that often go far beyond the scope of our standard brochures.
Here are just a few of the benefits we've reaped from content marketing:
It's more engaging than a standard sales piece.
What's more interesting – reading an article about a subject that interests you or reading a sales brochure? The answer should be obvious. Unless someone is directly inquiring about your service, a brochure about your product just isn't going to hold their attention for very long. Content marketing drives engagement because you are providing interesting material that builds a long-term relationship with the reader.
It has a longer lifespan than a standard sales piece.
A magazine or newsletter containing information that is of interest will be put aside for later. Content marketing can lengthen the amount of time that the recipient keeps the piece around before it ends up in the trash bin.
It establishes you as an authority on your subject.
The best way to let people know that you are an expert is to share your expertise! Content marketing shows that you are knowledgeable, and people who are interested in the subject you are discussing will begin to view you as a source of information on that subject. This relationship will later be converted into sales.
It creates brand recognition.
Let's say that the reader doesn't immediately rush to buy your product as a result of your content marketing. Was your piece a waste? If they enjoyed reading it, then no, it wasn't. As mentioned earlier, good content will establish you as an authority on your subject. Building this authority is valuable in and of itself. Later down the road when the reader has need of your product, your company may be the first that comes to mind. That kind of brand recognition is a benefit that cannot be measured.
Get Printspiration sent right to your inbox
Plus instant access to our FREE template library!