By Conlin's Digital Print & Copy Center, June 29, 2020
Summer is sizzling and we are ready to party. Conlin's Print collected 7 resources to add a little patriotic pizzazz to your party decor! Keep these printables in your collection for patriotic holidays or 4th of July festivities.
You can print these out yourself or have them printed professionally by your favorite local printer (hint hint).
1. USA Banner | Paging Super Mom
This USA Banner is the best addition to any 4th of July party. It gives you a touch of red, white, and blue without being over-the-top. Print and hang just about anywhere to get your pop of patriotic pride.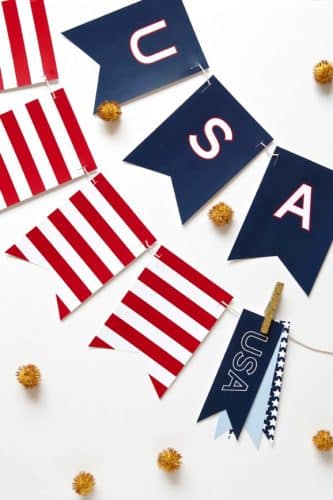 This tasty treat can be made ahead of time to help make your celebration a success. Gather your ingredients in a plastic bag. Print and attach this printable as a bag topper to create your "Star Spangled S'mores." Hint: These work great as party favors!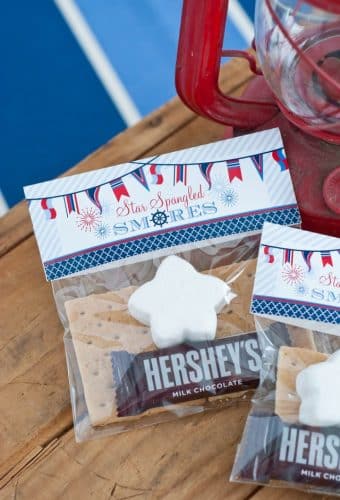 You will most definitely have a blast this holiday with these printable party labels. Print on card stock (add a hole punch to tie to another item), paper, or adhesive back material and attach to bags, favors, food, and more!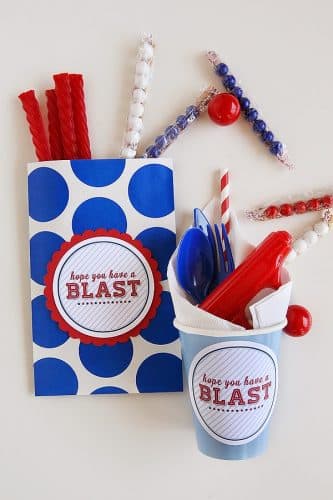 Complete your party eats with patriotic decorations. Print the little cupcake wraps and USA shape cut-outs (use a toothpick for support) and add to cupcakes or appetizers to transform your treats from drab to fab!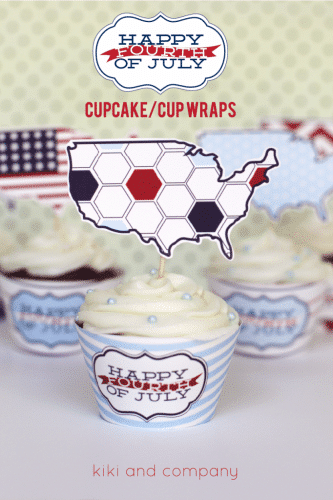 No celebration would be complete without a photo booth to capture all your fun memories. Add a festive backdrop, turn into the Statue of Liberty, or shine with some firework sparkles. Print out the props and attach to straws or wooden dowels for support. Say cheese!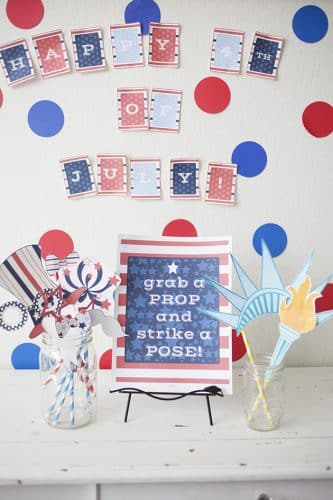 Give the little ones something to do during the holiday. They can color in the United States of America or play a friendly game of 4th of July themed BINGO. Hint: The s'mores goodies listed above would be the perfect prize!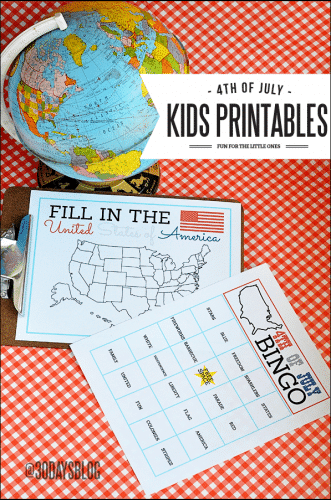 If you want to create your own printable project, use these free patriotic fonts in a variety of ways. It's time to get creative! Project ideas: 4th of July invitations, treat tags, banner headings, menu titles, game boards, nameplates… the list could go on.
Fonts shown:
American Donuts | God Bless America | Sparkle & Shine
July Fireworks | American Dream | Stars & Stripes | United States
Bodie MF Flag | Flashbang | Independence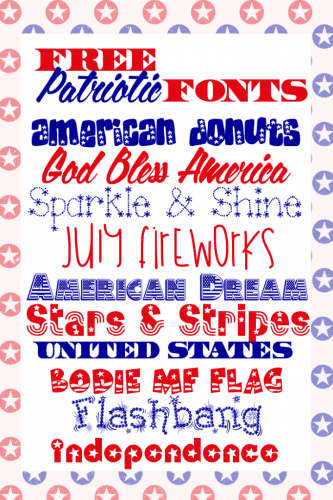 Ask us about custom projects by calling 610-337-4460 or emailing kingofprussia@conlinsprint.com.

Gathered & Written by:
Heather Fesmire
Digital Marketing Coordinator
Get Printspiration sent right to your inbox
Plus instant access to our FREE template library!