By Conlin's Digital Print & Copy Center, April 28, 2020
Lock-down can make anyone a little stir crazy. Conlin's compiled some resources to help you stay printspired while staying home! Below there are blogs we just had to share again, projects that you can print out and do with your kids, templates to prep file layouts, and links to read and watch videos. Why not have some fun while being productive?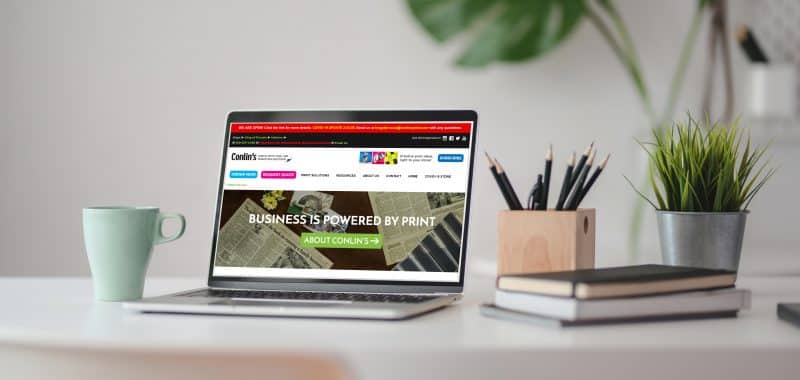 Blogs to Keep You Printspired
The Ultimate List of Free Resources for Print Design
When it comes to print design, it's important to stockpile a collection of photography, fonts, icons, and other resources to help you design your best projects. There are plenty of free design resources available on the net, but often you have to do a bit of searching to find the ones that are quality without being costly. Read More…
Prepress 101: Your Best Guide for Creating Print-Ready Files
Setting up your documents for the print might seem confusing, but it's actually pretty simple. There are three important factors that go into creating a good print-ready file. Read More…
The Most Overlooked Way to Drive Traffic to Your Company Blog
Your company just launched a new blog and announced the launch on social media. The problem is, you only have 50 followers per platform and most of your customers don't even know you're on there. If you have an email list, you can send a blast out to let your customers know about the launch — but what should you do if your email list is small (or non-existent?). Read More…
Front Window Decals
Window decals are a great way to show that your business is still open or give directions on social distancing. Conlin's prints a wide variety of different shapes and sizes. While stuck at home, get printspired by our front window decals, design your own, and send us the files. We will print for you and deliver! View Our Front Window Project…
Printable Projects
Feeling overwhelmed and don't know how to keep your kids printspired? Entertain and/or educate them with free worksheets, crafts, and more. Want to get more creative? Design your own project and print it out. Print these projects out at home or Conlin's can print for you. Just send us an email.
Paper Projects Worksheets and Printables
Free Printable Crafts for Kids
16 Printable Art Activities for Kids
Lay It All Out
Now is the opportune time to get online or design projects complete! Prepping files for print doesn't have to be hard. Join our growing community of subscribers and get free access to our design templates, print tutorials, marketing worksheets, and more!
Read Our Publications
Extra, extra, read all about it! Conlin's Print features newsletters and publications on our Issuu Page. What better way to spend spare time by reading about projects, design, local business, and more?! Bookmark this link for later for access to future publications.
Visualize It
Conlin's Print YouTube Channel has a bunch of videos on print projects, display installs, new equipment, and more. Take a look. You may be surprised at what Conlin's can do!
Here's one of our favorite videos:
We hope this blog printspired you while staying safe at home. Remember, we are are still open and taking precautions to keep our employees and customers safe. If you have any questions at all, do not hesitate to reach out to us. We are all in this together! Please share your printspiration with us on social media. Tag our business page @conlinsprint on Instagram, Facebook or Twitter and/or use these hashtags:
#conlinsprint
#printspired
#printspiration
Visit Our New COVID-19 Print Essentials Online Store HERE!
Gathered & Written by:
Heather Fesmire
Digital Marketing Coordinator
Get Printspiration sent right to your inbox
Plus instant access to our FREE template library!