PLEASE NOTE:
This is only an overview to help you understand the basics of how Iridesse Ink works. To become proficient at designing with this specialty ink, download our
Xerox Iridesse Resources
, which include the
Iridesse Design & Prep Guide
and the
Quick Start Guide
.
Our Xerox® Iridesse Production Press gives you the opportunity to add luxurious iridescent effects to your digital printing. It does so by combining four-color CMYK imagery with up to two different specialty dry inks, including Silver, Gold, and Clear.
The result is a shimmery and shiny finished product – all from a single digital print run!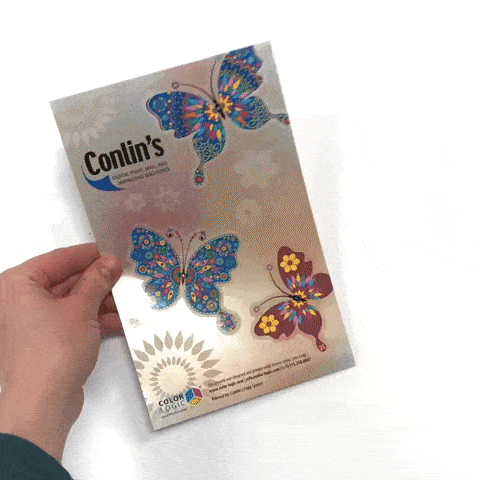 What Goes into a Metallic Color?
Each iridescent color is created by printing a silver or gold metallic underlay with a tinted color overlay.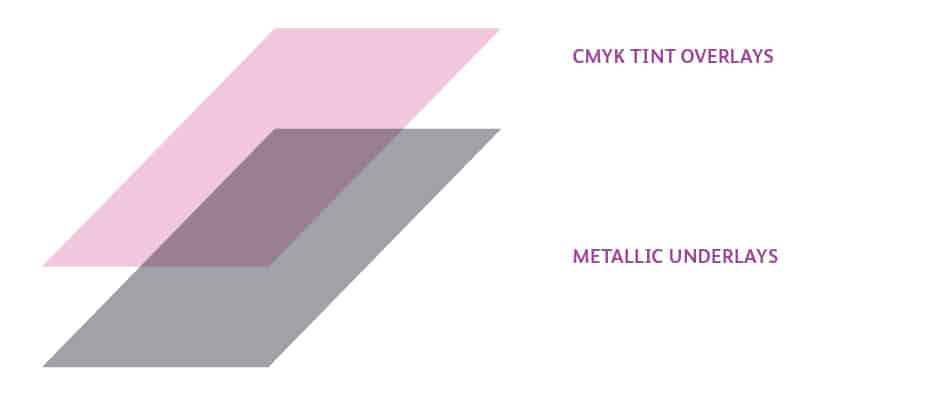 Silver makes the best underlay because it lends the most sparkle and shine.
A gold base under metallic colors creates warmer hues.
For the most vibrant colors, set the underlay to 60%.
10-20% tinted CMYK overlays allow the metallic color underneath to shine through.
Multiply each CMYK object to allow it to blend with the metallic underlay on press.
Pastel colors create the best metallic hues.
Iridesse Swatch Book
Some colors work better with Iridesse than others. Take away the guesswork by using the pre-mixed swatches in the Iridesse Swatch Library. This is available when you download our Xerox Iridesse Resources. The zipped files contain an InDesign document called Master Metallic Color Swatch File Silver and Gold.indd, which has an entire library of metallic swatches.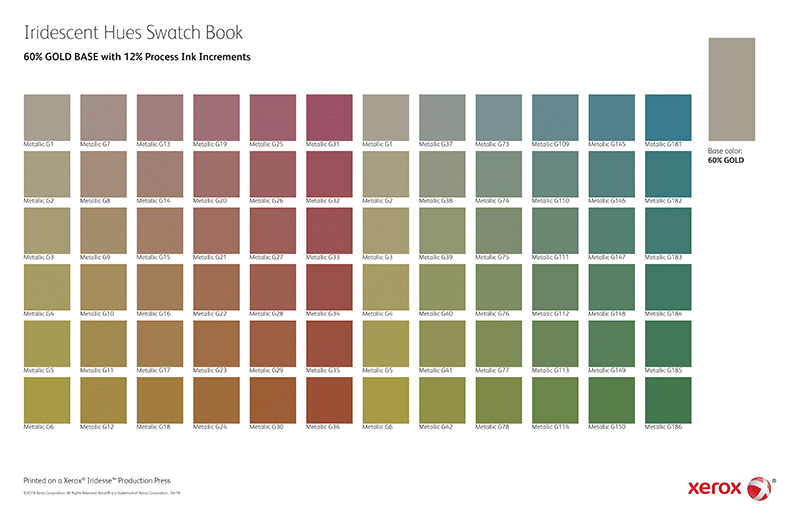 Iridesse project files look very different on the computer than they do when printed. Before you start designing, we recommend that you request a printed version of the swatchbook. This is a great design aide that will help you visualize the end result.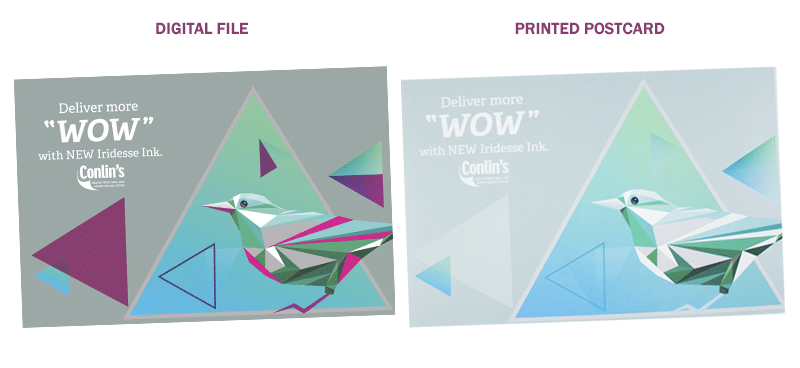 Note about Iridesse Colors: The swatches contained in the library are all CMY colors – meaning they don't have black mixed in. Black tends to make the color turn out duller. It is possible to mix your own colors with black, so once you get the hang of it, you can definitely experiment with using black in your color mixes.
Creating a Design With Iridesse Ink
Now that you know a bit about creating the metallic colors, let's take a look at a finished project: an Iridesse bird postcard. (Find this project in the Design & Prep Guide page 37)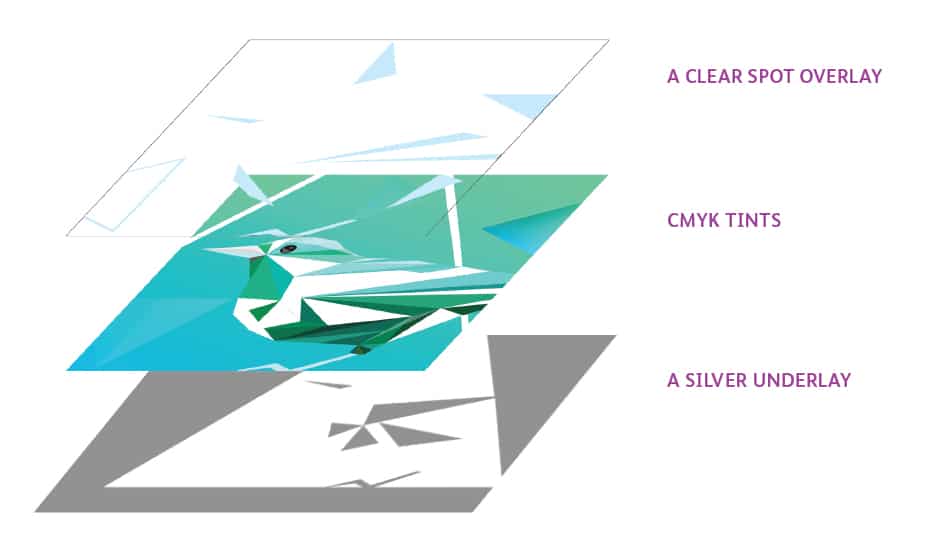 SILVER UNDERLAY
The first layer of this postcard is a silver underlay, set to 60%.
CMYK TINTS
The second layer contains CMYK tints, set to various levels of opacity. On this design, the background is comprised of pastel, iridescent colors while the bird is made of opaque, brightly saturated colors. Pairing a bright, non-metallic color with an iridescent one creates a beautiful contrast. Be sure to multiply each CMYK object.
CLEAR SPOT OVERLAY
The third layer contains a few spots of clear ink. When printed over Iridesse ink, clear ink creates a "dull" effect that contrasts with the shine of the metallic colors. Clear objects must be set to Overprint.
PAPER SELECTION
With Iridesse, your paper selection can affect your design. Coated paper is the best choice to make this ink pop.
Can't get your design to work?
If something is wrong with your file, double-check these things:
Check that layers are in the right order (Design & Prep Guide page 6)
Did you multiply your overlay tints?
Did you set your clear objects to overprint?
Make sure your PDF settings are correct (Design & Prep Guide page 46)
Let's Review!
Set your silver or gold underlay to 60% for maximum vibrancy.
In most cases, silver will make the best underlay because it lends more sparkle.
Your CMYK overlays should be set to 10-20% tint to allow the silver to show through.
Multiple your CMYK layers.
Some colors make better metallics than others – we recommend using the Iridesse Swatch Library to take away the guesswork.
Printing clear ink over metallic colors will create a "dull" effect.
Set your clear layers to Overprint.
A mix of metallic and non-metallic hues provides a contrast that shows off the metallic ink.
Your design will look it's best on coated paper.
Download our Iridesse Resources
This tutorial only scratches the surface of what's possible with Iridesse Ink. To learn more about the full range of possibilities, download our Xerox Iridesse Resources. This kit contains two guidebooks, four swatchbooks, and the swatch library.
Download Xerox Iridesse Resources
Request Print Samples
Our Iridesse colors look their best in person, and the design files look different on the computer than they do when printed! We recommend that you request a printed version of our swatchbooks, which will help you visualize the end result.