By Conlin's Digital Print & Copy Center, May 12, 2021 | Marketing, Printspiration, Products & Services
The weather is getting nicer, and we have transitioned to in-person outdoor events. Conlin's has what you need to make your event one to remember.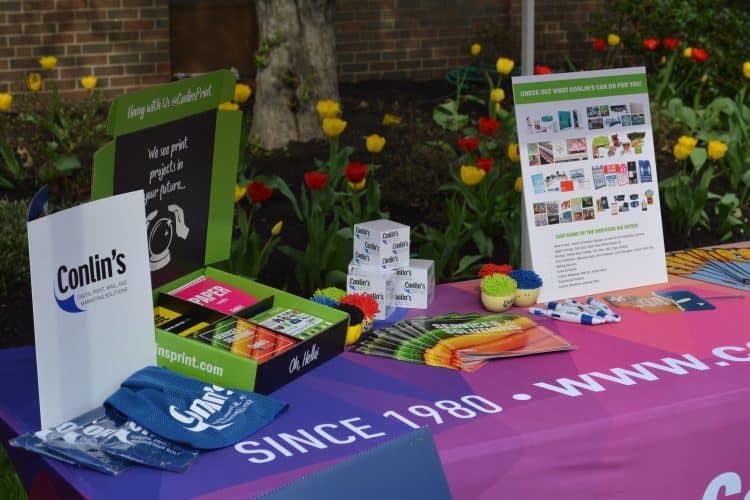 Event Invites
An event starts with an invite. Create a postcard, card with envelope, folded brochure with a wafer seal, or even a custom package with event swag.
The invite not only increases attendance by getting you on their calendar, it shares the important details like location, time, date(s), and brings the excitement of something new to come. Choose from a large selection of paper stocks and invite styles here at Conlin's. We can also design the invite for you and provide mail fulfillment!
Tents for Outdoor Events
Keep yourself shaded in style with custom tents. We can send a template for numerous styles or design it for you. They are made from a durable and weatherproof material, easy to assemble (some require 2 or more people), and have loops for ropes.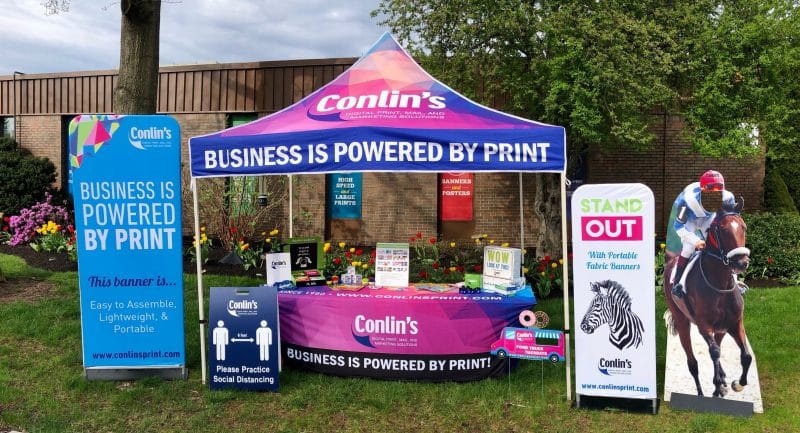 Table Covers & Runners
Display your branding in a unique way while covering plain or possibly unsightly tables. Our table covers and runners range from stretchy to firm and can fit all different size tables. Make your print products pop by utilizing complimentary colors and placing logos and text in eye catching areas. Ask us about templates!
Banners for Outdoor Events
There are portable fabric banners, as well as vinyl banners to display your event information. Banners are great for showcasing your logo, tagline, contact information, or event details. They will help you stand out from the crowd! Add grommets to your vinyl banners to hang from a tent, fence, or building. We can help with design and installation.
Signage for Outdoor Events
From A-Frames to lawn signs, Conlin's has every kind of sign you could need. Whether you are directing event attendees to the bathroom or keeping everyone 6 feet apart, signs are perfect for just about anything. Choose from all kinds of outdoor resistant materials.
Books, Brochures & More
Smaller print materials provide information about your services, who you are, and essentially sell YOU. These event materials include handouts, notepads, brochures, booklets, postcards, business cards, menus, table tents, posters, stickers, folders, and so much more. Add rounded corners, utilize thick card stock, mix in contrasting colors, make it an interesting size, and design something that will leave a lasting impression. Ensure you print enough for the crowd you will be receiving.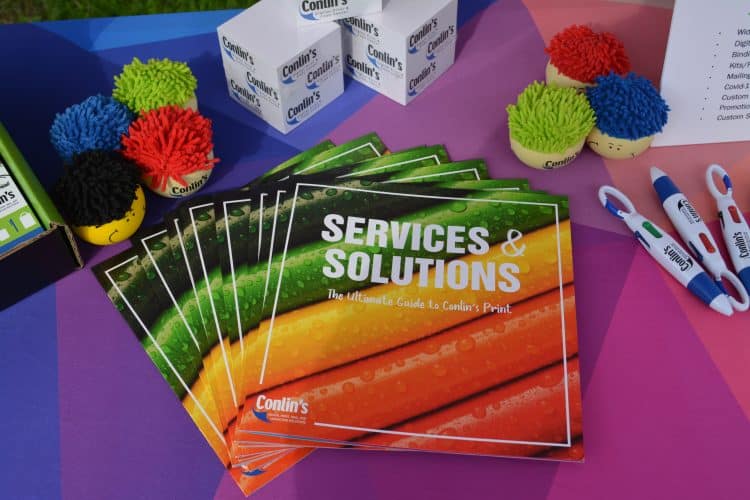 Event Promotional Products
The fun stuff as we like to say – stress balls, pens, chip clips, rally towels, tote bags, mints, t-shirts… the list goes on! Embellish these items with brand logo, tagline, and colors. Choose promo products that event attendees will have use for. For example, if at a golf event, give away customized golf balls, tees, or scoring pencils. Promo products really do work. People hold onto pens, tote bags, and more, which is extended advertising for you!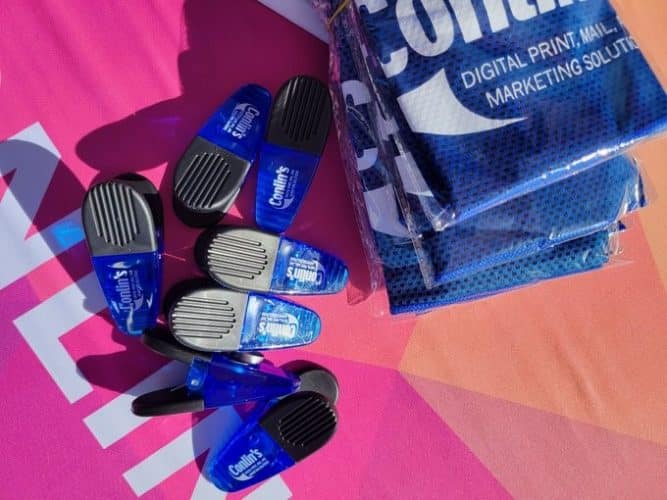 Event Packaging & Kits
Want to leave a more sizable impression on important prospective clients? Custom packaging and kits have endless possibilities and are a great way to put together multiple items in one special giveaway. Box products, food, print materials, and promotional products within a unique container.
Kits are also wonderful for invitations and virtual events. Send out welcoming kits to attendees before the event arrives with their tickets, swag, and informational packet. If you are holding an online event, mail a kit to enhance the experience. Pack up samples that will be addressed in the event and information about the schedule. It will be like they are actually there!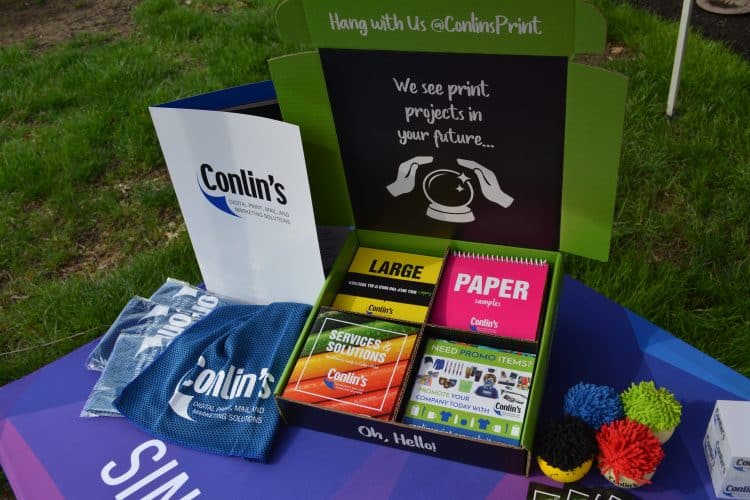 The products we shared are just a few of what we offer at Conlin's Print! There are so many options to make your event amazing. Feeling a little overwhelmed? Do not stress! Conlin's will help you figure out exactly what you need for the big day. We will help you with print choices, design, and even install. Check out our Services & Solutions Brochure for more. Get outside! We hope to see you soon.
Written by 
Heather Feraco
Digital Marketing Coordinator 
Get Printspiration sent right to your inbox
Plus instant access to our FREE template library!