Whether you're getting married, planning a sweet sixteen, or hosting a corporate gala, your invitation suite is important. This is your invitees first interaction with your event. Your invites aren't just providing written information – the design of this piece communicates so much more.
A strong invitation suite carries the event's theme. It gives the recipient a taste of what is to come, and it can generate excitement and anticipation. So don't let your design fall flat! Here are some tips for creating beautiful invitations – no matter what the occasion!
Important note: Our talented designer Jaime Zucker created this set to show you what's possible, but this event is not real! Don't be offended that you weren't invited.
1. Choosing Your Stock
With invitations, one of the best ways to utilize this additional impact is to select a great stock for your project. For this project, we selected a Classic Crest Duplex 120# Cover for the invitation. This 'duplex' stock was white on the front with a pale purple colored back.
We used the white as the front of the invite. It contains all the vital information with a hint of gold ink and a very trendy geometric pattern. On the back, we repeated the geometric motif in gold ink. The colored backdrop really made the ink pop.
There are so many specialty stocks to choose from – from vibrant colors to embossed or textured stocks. When you are printing your invitations, ask your printer for a stock sample book so you can check out your options!
2. Choosing Specialty Inks
The gold ink is an example of one of our specialty inks. We used it on multiple items in this suite. Silver and white ink are also available!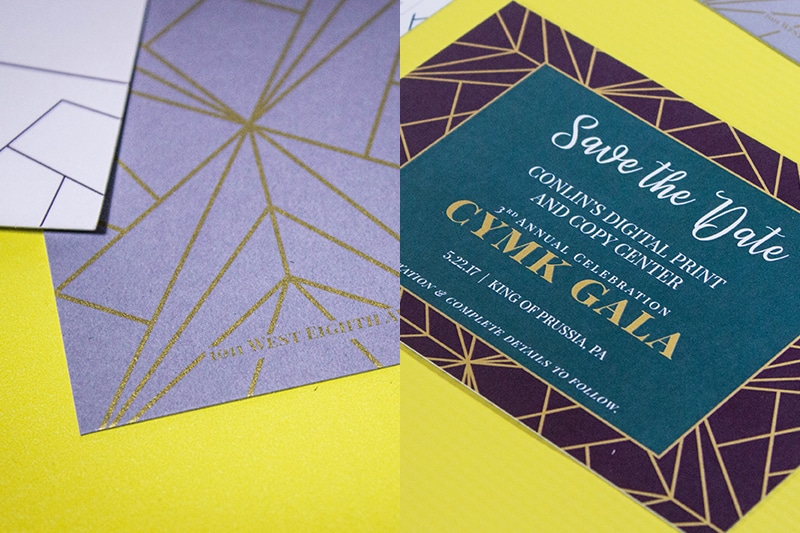 The stock you use will change the overall appearance of the ink. You can see the difference when you compare our invitation and save the date card. The matte stock on the invitation gives the gold ink a more raw metallic feel. On the glossy stock, it shows up more solid and shiny. Both are beautiful, but the effect isn't exactly the same. The color of your stock is important, too. The purple has a difference appearance on the paler purple stock that it does next to the deep purple color.
3. Designing Your Envelopes
4-color envelope printing allows you to add messaging or design to your envelope! This can be a very effective way to make your invite stand out from the rest of the mail.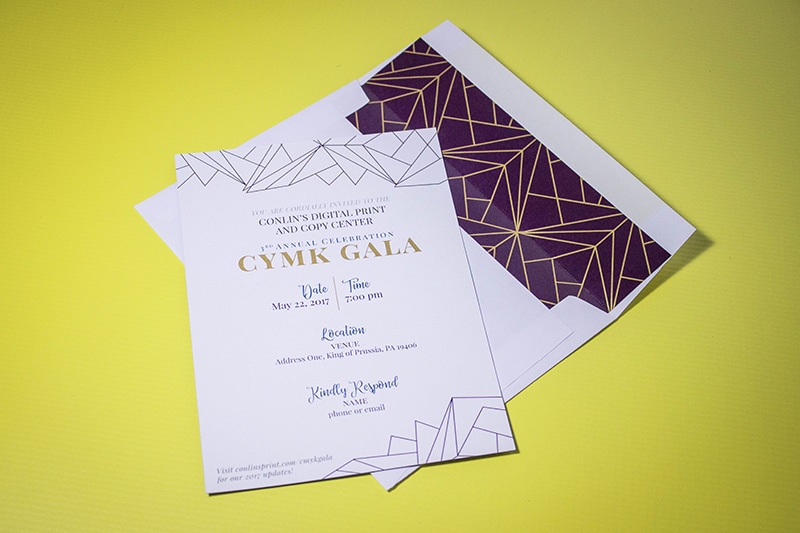 You also have the option of using an envelope liner. It's a simple way to make everything look classier and more finished. Our liner is deep purple with that same gold geometric pattern. (We love how the gold really pops with the deep purple!)
4. Choosing Fonts
Strong typography contributes to the mood and design of your invites. We paired the scripted font Priscilla with a serif font called Playfair Display. The effect is modern but still classic and timeless.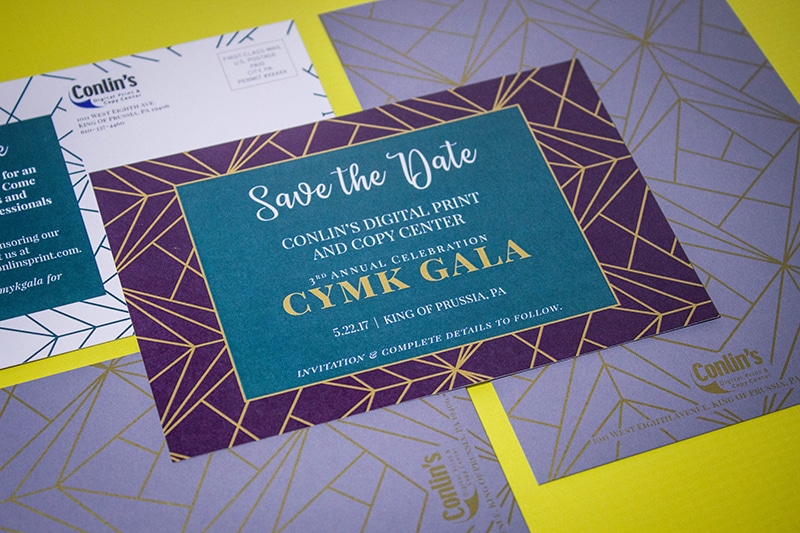 For free fonts (plus even more tips for selecting the best ones) check out our recent post 16 Free Fonts for Invitation Design.
5. Design Resources
There are so many wonderful free and paid resources on the internet that can help you with your design. For example, there was no need for us to create this geometric pattern from scratch. This was a free online pattern that our designer Jaime customized to fit the design.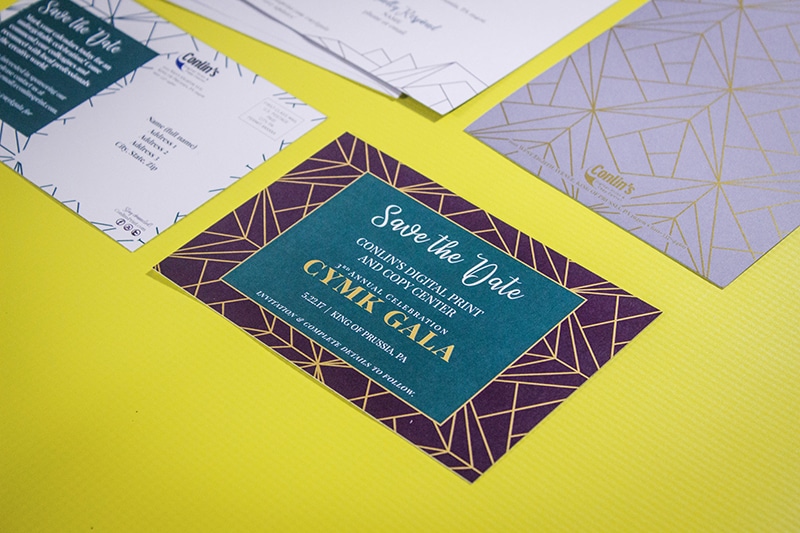 If you aren't an illustrator, you can find anything from a beautiful floral pattern to a bright Moroccan design when you know where to look. Here are some awesome places (both free and paid) where you can find the perfect graphics for your invitations.
• Download the geometric pattern here!
• Shutterstock
• 123 FreeVectors