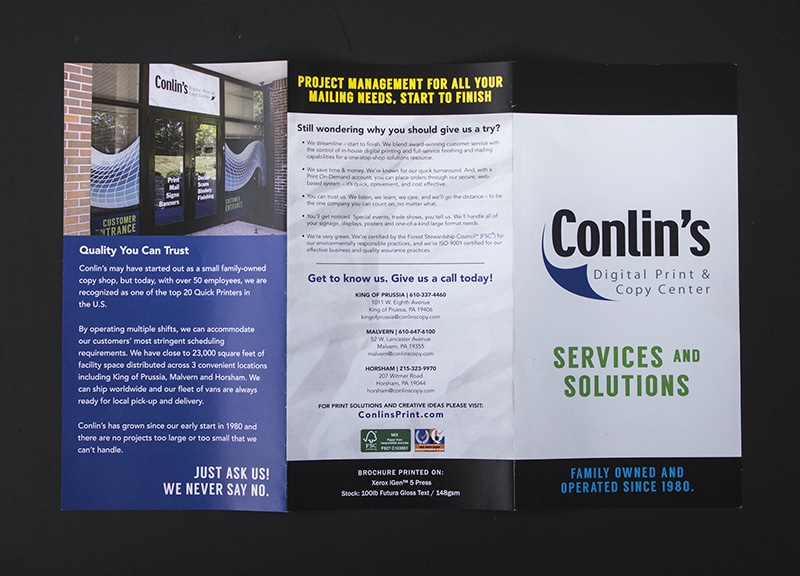 Even in the digital age, printed brochures and "leave-behind" pieces are still an important part of every business's marketing mix. But is your company brochure actually selling your products and services, or is it getting tossed aside?
Here are our best tips to ensure that your brochure is getting the job done!
1. Ask yourself the right questions.
Don't piece together your brochure without first considering what you want it to accomplish. By asking the following questions, you'll be able to set a goal in your mind and design content aimed to push the reader toward a specific action, such as calling for a quote, visiting your website, or inquiring about a new product.
What is the purpose of the brochure?
Who is your audience?
Is the brochure design consistent with your brand's identity and voice?
What is the main message and call to action?
2. Plan your content.
Keep in mind that your customer doesn't know your product as well as you do. Use clear, concise language and avoid using technical terms. Headlines should be short, and sentences and paragraphs should be informative and concise. Don't forget to fact and spell check!
The way your content is organized is equally as important as the content itself. A great way to plan this is to fold a blank piece of paper into your desired brochure size and style and sketch out the layout.
Here are some examples of the content that your brochure should contain:
• Your company logo
• Address, email, phone, & other contact information
• Brief company bio
• The products and services you offer
• Your website's URL
• Social media handles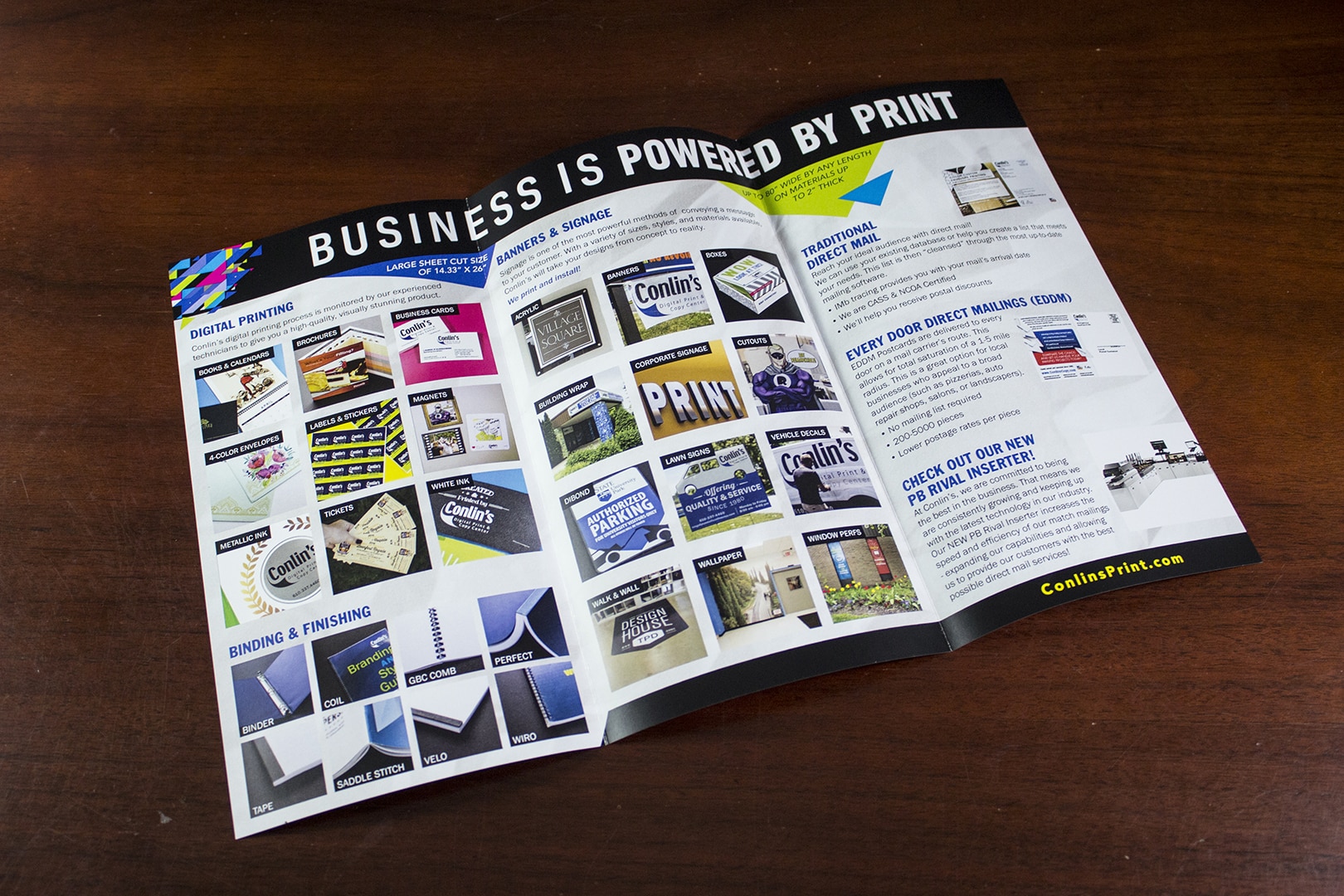 3. Select your brochure style.
The style of brochure you select will often be dictated by how much content you need to share. Here's a selection of just a few of the fold styles that are available!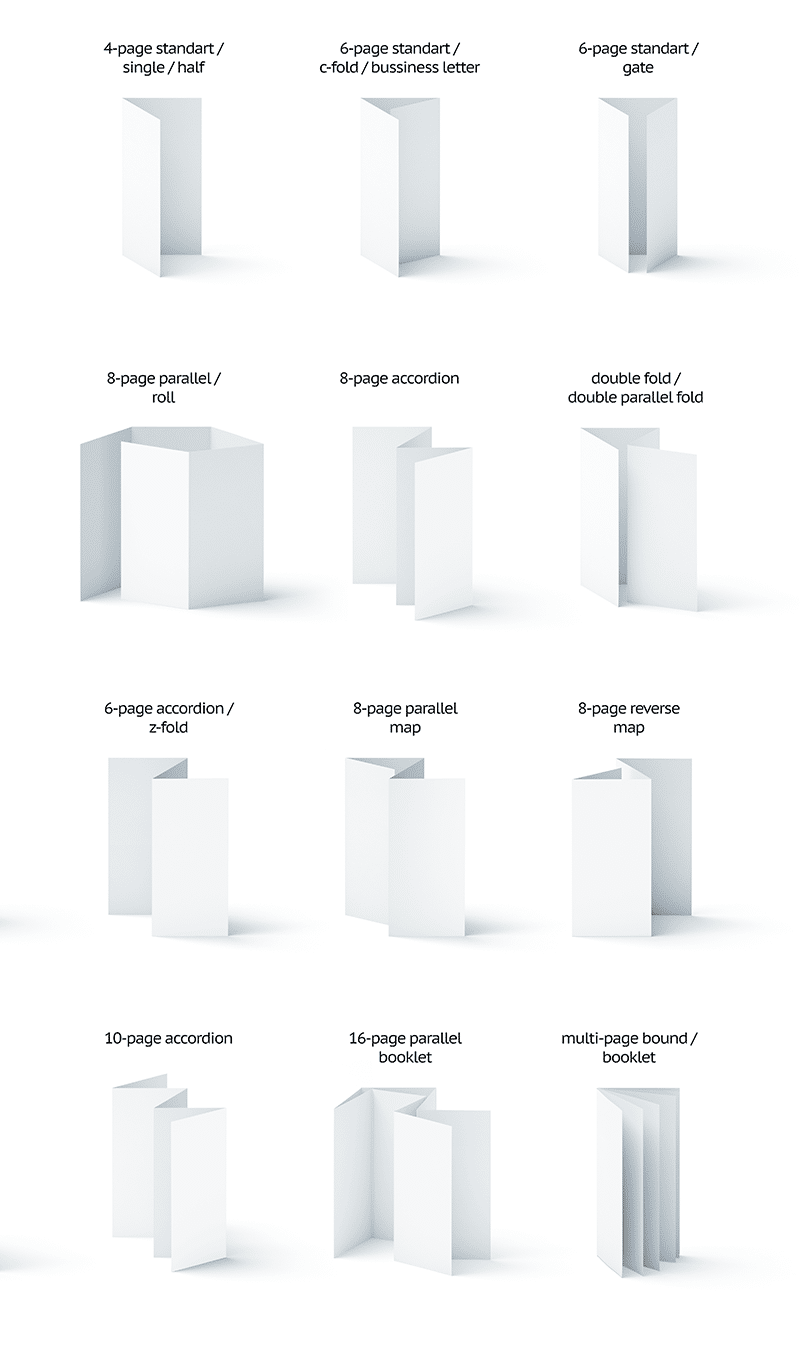 4. Use quality materials.
Your marketing materials should make an impact! Nothing is less impressive than pixelated photography, poor graphics, bad typography, or flimsy paper stock.
FONTS
Choose fonts that are clean and easy-to-read (Canva's article The Ultimate Guide to Font Pairing is an excellent resource if you aren't a font expert), and don't mix more than 2-3 different fonts.
IMAGES
Use images that are high-quality and tell the story of your brand. Have photographs taken professionally (or if you happen to have an excellent photographer on your staff, have them take the shots). Another option is to use stock photography. There are both paid and unpaid options – keep in mind that if you purchase a stock photo, you can use it over and over again for your brochures, postcards, website, and other materials. Invest in images that you'll get utility from!
Here are a few free and paid stock photo options:
• www.freerangestock.com
• www.unsplash.com
• www.flickr.com/creativecommons
• www.123rf.com
STOCK
Now that you've invested time and effort into designing an effective brochure, you'll want the finished product to look its best. Select a sturdy paper stock that will highlight and enhance your content. Conlin's staff is always available to offer assistance in choosing the best paper stock and size for your project.