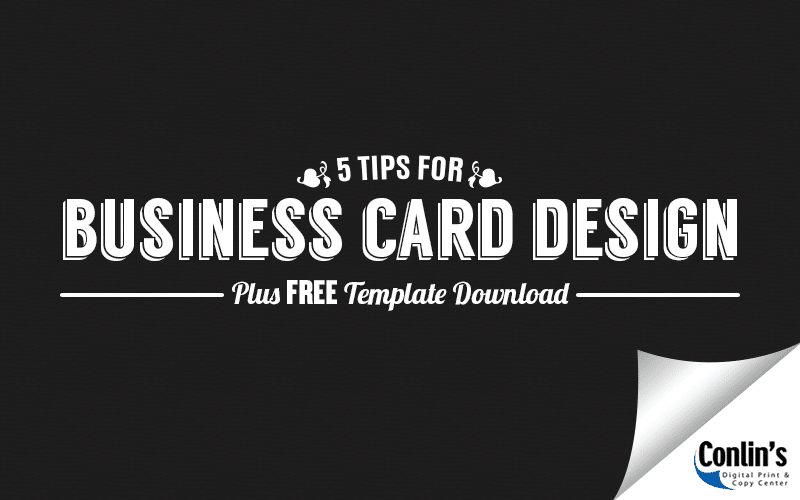 First impressions are important, especially when you are prospecting new clients. Contribute to a positive first impression with a well-designed business card. Here are five design tips to help you get started!
1. Use good design principles.
Make sure that your logo, type, and all content are clearly legible. Avoid overcrowding the card – negative space makes your design easier on the eye. For a professional result, spend a little of your budget and work with a professional designer!
2. Get creative, but stick to the standard size.
It can be tempting to create different shapes and sizes of business cards, but practicality is just as important as creativity. If your card doesn't fit in a wallet or card holder, it runs the risk of getting tossed.
A standard card is 3.5" x 2" – this will fit in standard business-card holders. To make your card stand out, you can use embossing or stamping, print on paper stocks with unique textures or colors, incorporate folds to fit more information, or use digital cutting to add creative edges.
3. Your card is a marketing tool – don't forget to treat it like one!
Your card does more than just provide your contact information. Use messaging and design techniques that show your creativity and advertise yourself as the best option for your services. Consider the back of the card as extra space for additional messaging.
4. Plan your content.
Your card should provide the most important information clients will need to reach you and or preview your work. It doesn't need to be an exhaustive list of every social media outlet or method of contact.
Incorporate only the contact information that can reach you the fastest and social media outlets that you use the most often. Avoid more than two phone numbers, URLs, or email addresses.
5. Use your profession as inspiration.
The most impactful cards have a creative design that connects to your industry. Even better, design something that's both informative and functional. Cleverly designed cards can be used as a bottle opener, a magnifying glass, a cheese grater, and more! Find some of our favorite examples on our Pinterest board.
Many of our customers ask about templates for designing business cards, so we created a simple bare-bones card template for use in Adobe InDesign. The template is the standard 3.5" x 2" and has the correct margins and bleeds built in to the document. All you have to do is download the file and start designing!