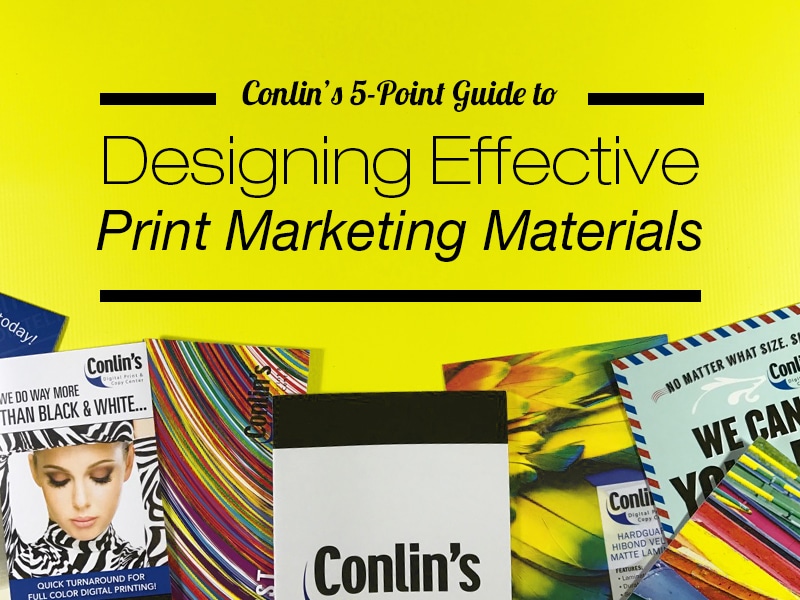 "When creating brochures, mailers and other print marketing materials, graphic designers will often talk about creating collateral that 'feels important.' Seeing a brochure on a screen doesn't deliver the same tactile fulfillment as holding that very same brochure in your hand. We see millions of things on our screens each day and the digital overload dilutes the sense of importance in even the most memorable design." [Forbes]
Even in a digital world, printed materials will always be an important element of your marketing mix. Unlike your digital marketing efforts, print provides you with the ability to design a piece that is creative, memorable, and will extend the reach your brand. Our easy five-point guide will help you design effective materials that communicate clearly, inspire the recipient, and help you build a relationship with your current and potential customers.
1. Incorporate both photos and written content.
Everybody retains information differently. Some people are more visual and will best remember what they have seen in photographs, while others will remember content that they have read. Design your layout and content to appeal to all types of learners for maximum impact!
Another important tip: give your written content headlines and sub headers that make it easy to skim for those who won't read it as thoroughly.
Below: Our sales brochure has bullet points that describe our services, but our recent coloring page brochure has images to represent our various products. The pictures are a quick way to communicate what we do!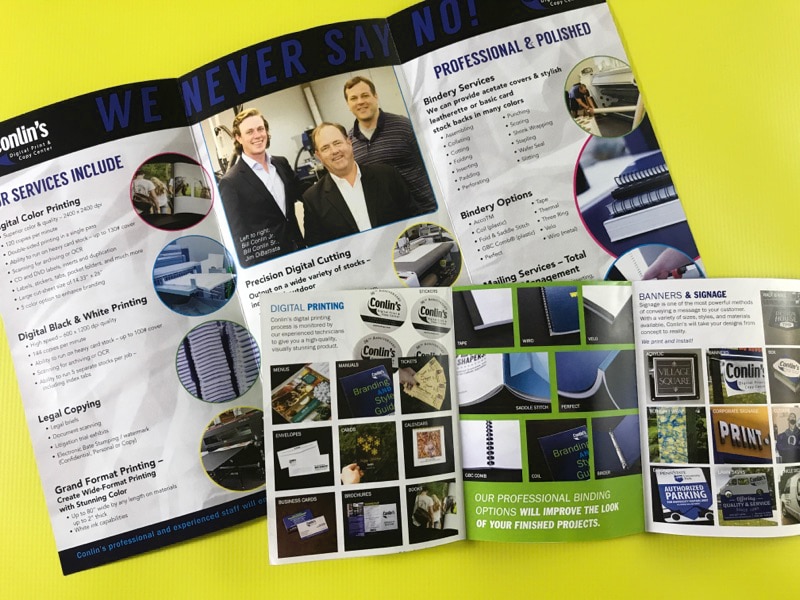 2. An intuitive layout will enhance your content.
The way you arrange the content has an impact on your reader's comprehension of it. Keep in mind:
Place your most important content in the highest areas of visibility.
Since we read from top to bottom and right to left, the top left corner will be the first place where the eye hits the page, while the bottom right corner will typically be the last.
Take the time to understand how your recipient will interact with the piece to create a better user experience.
Whenever I am designing a multi-panel brochure, I usually fold a blank piece of paper and observe my own interaction with it to figure out the best way to arrange my content. Creating a simple test version of whatever you are designing can help you improve usability.
3. Know your audience and communicate accordingly.
Marketing is reaching the right audience with the right message at the right time. That messaging includes understanding your buyer's pain points and demographics so that you can target them with the best marketing message and images that are relevant to them.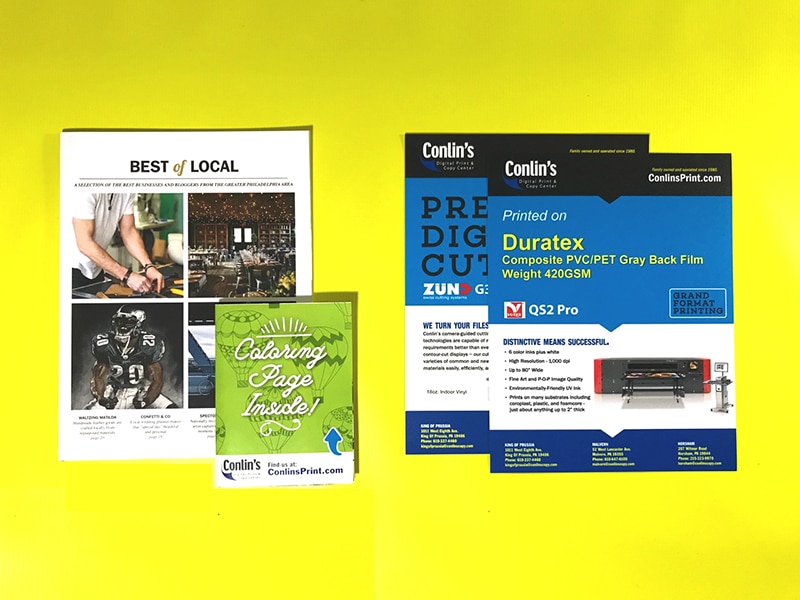 When it comes to print, the type of project you choose communicates something too. Consider your audience's interests and needs when choosing between a creative project vs a straightforward brochure or sell sheet. Will this item go to a designer or creative type? Then a fun design might inspire their creativity and grab their attention more than a sell sheet containing a list of bullet points. But that simple sell sheet could be the best option for a more left-brained, to-the-point person who just wants to know the bottom line of what you offer.
That's not to say that your creativity should only be used on creatives — a fun piece can be inspiring for anybody. But sometimes, a simple but informative piece will be the best way to sell to a particular person. If you are reaching a diverse audience, having a few options to choose from will help you provide the right materials to the right person every time.
4. Use storytelling to tell about your brand and/or your company history.
Storytelling is the number one way to influence people. Your brand story has a powerful impact, and sharing it is every bit as important as listing your products and services.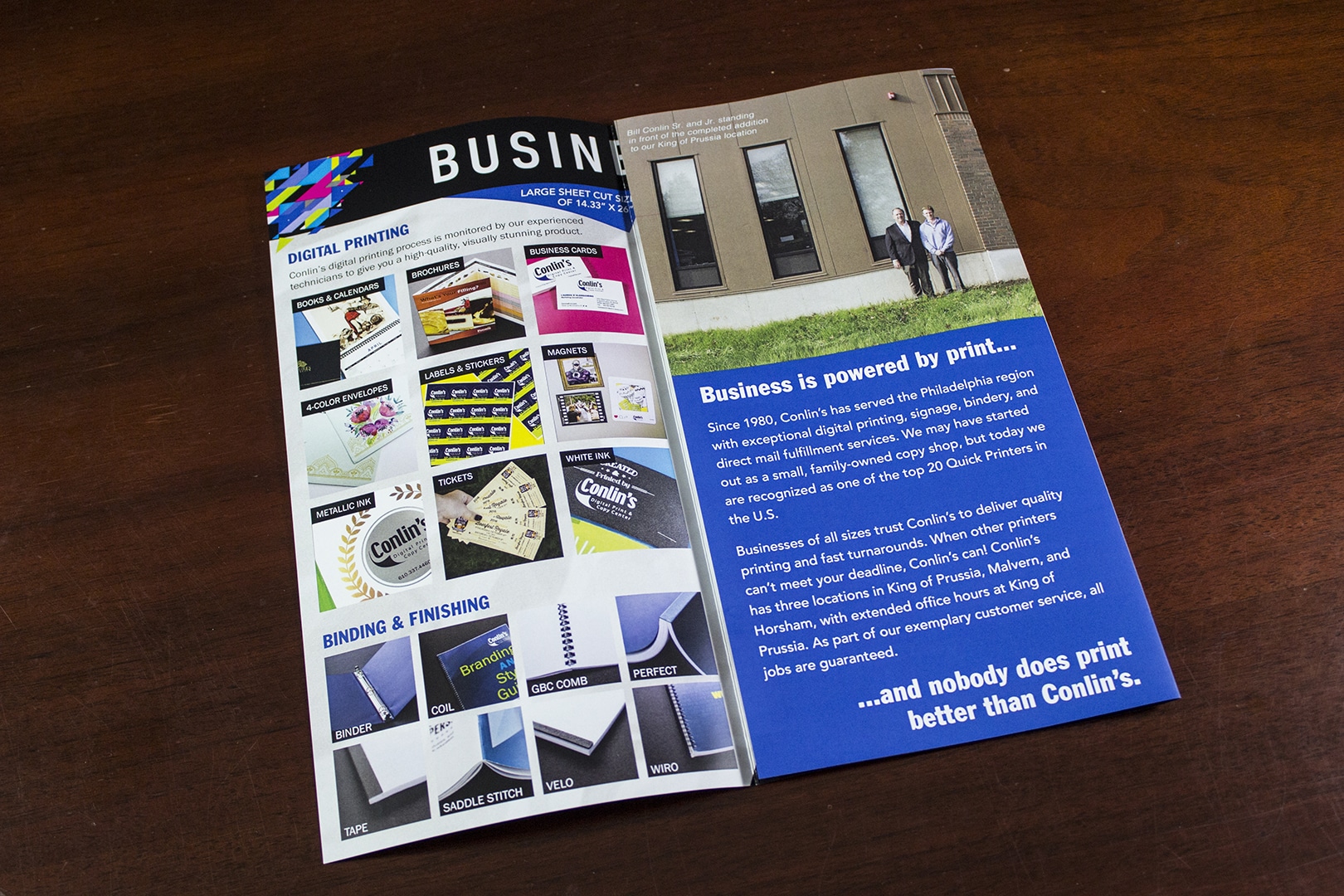 Ultimately, your relationship with your customers is a key part of whether they will stay with you or move on. Build that relationship as soon as possible by introducing yourself, telling your company history, and/or sharing behind-the-scenes photos or stories.
5. When possible, use your marketing materials to demonstrate your services.
This tip sounds obvious, but it's not always put into practice. I've seen web designers with lackluster websites, social media specialists who don't take the time to build up their own accounts, branding agencies who haven't built their own brand, or makeup artists who don't wear makeup to work. Taking the time to create materials that show off your core competency builds trust by demonstrating your ability to perform the service you offer.
We are a printer, so our printed marketing materials demonstrate our printing capabilities. We use a variety of stocks, finishes, and binding options on our materials to show off the range of services we provide. If you are a marketing company, show it off with strong brand storytelling and messaging. If you are a graphics designer, showcase your strong design skills. The more creative you are, the more impact your materials will have.