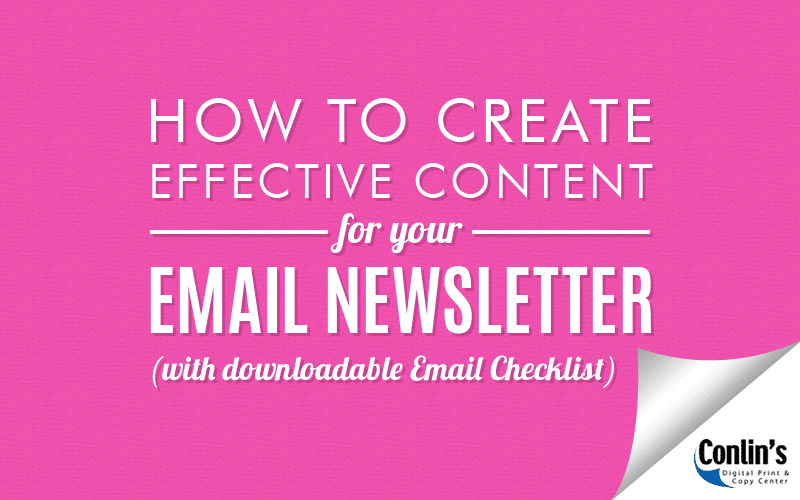 Is your email content missing the mark? Here are four tips for creating emails your customers will WANT to read!
1. Offer Something of Value
Are you providing the reader with something valuable or teaching them something? This will keep them subscribed to your list and interested in reading what you have to say. Don't just send out bland company updates. Send the latest deals, early updates on new product offerings, useful tutorials, or helpful advice. In EVERY email that you send, you need to be GIVING something to your customer.
2. Make a Personal Connection
Are you making a personal connection with your readers? One way to do so is by using your first and last name (rather than the business name) as the sender. You might also consider signing off with a headshot and a "handwritten" signature. This gives a name and a face to your email, making it feel like this email is coming from a person rather than an organization.
You can also connect by sharing personal stories that illustrate the principles you are teaching in your email. It's a great way to offer up more information about your brand without sacrificing the "helpful" factor.
3. Write a Strong Subject Line
The unfortunate truth is this: if your subject line stinks, no one is going to open your email. It doesn't matter how good the content is if this line doesn't pique their interest enough. So be sure to invest some time and effort into this part of the process. It might seem small, but it's vital!
Here are few tips for successful subject lines:
Tell what's inside and avoid "sales-y" terminology
Be specific and concise (50 characters or less)
Avoid using recipient first names in the subject line – it comes off as spammy
Use a new subject line each time, even if it's a newsletter
Avoid odd characters or too much punctuation
Test out several subject lines (both to yourself and others) and observe how they look in your inbox to decide which is most effective
4. Use an Effective Call-to-Action
Your call-to-action is essentially the centerpiece of your email. This is what will compel the recipient to complete the action that your entire email is purposed around. It needs to be:
Goal-oriented: What is the goal of this email, and what action do I need the recipient to complete in order to reach my goal?
Compelling: Use concise but well-chosen language. Every word counts! When consider how to get your audience's attention, think about the needs and problems they have. If you speak to a felt need they will be more likely to take the suggested action. Another way to get a response is to offer something FREE or of value when they follow-through.
Clearly visible: Our email uses a green button for the CTA so that it stands out and can be found even by a skimmer.
Singular: In most cases, it's best to use a singular call-to-action. Your reader is already being bombarded with emails, and if you ask them for too much they might not even bother to keep reading. Make it easy for them to figure out what you're offering and determine whether or not to respond. One exception that comes to mind is for an email that displays excerpts from multiple posts with a "Read more" link. In this case, having more than one call-to-action is effective. When you display multiple post headlines, your reader's eye will go to whatever catches their interest the most.