By Lauren D'Alessandro, May 17, 2017
Email marketing provides a higher ROI then most other marketing tactics, so it should be a key component in your marketing mix. Email newsletters are an important way to build a connection with your customers. They can be used to increase brand engagement and recognition by providing useful tips or insider information that will benefit your customers.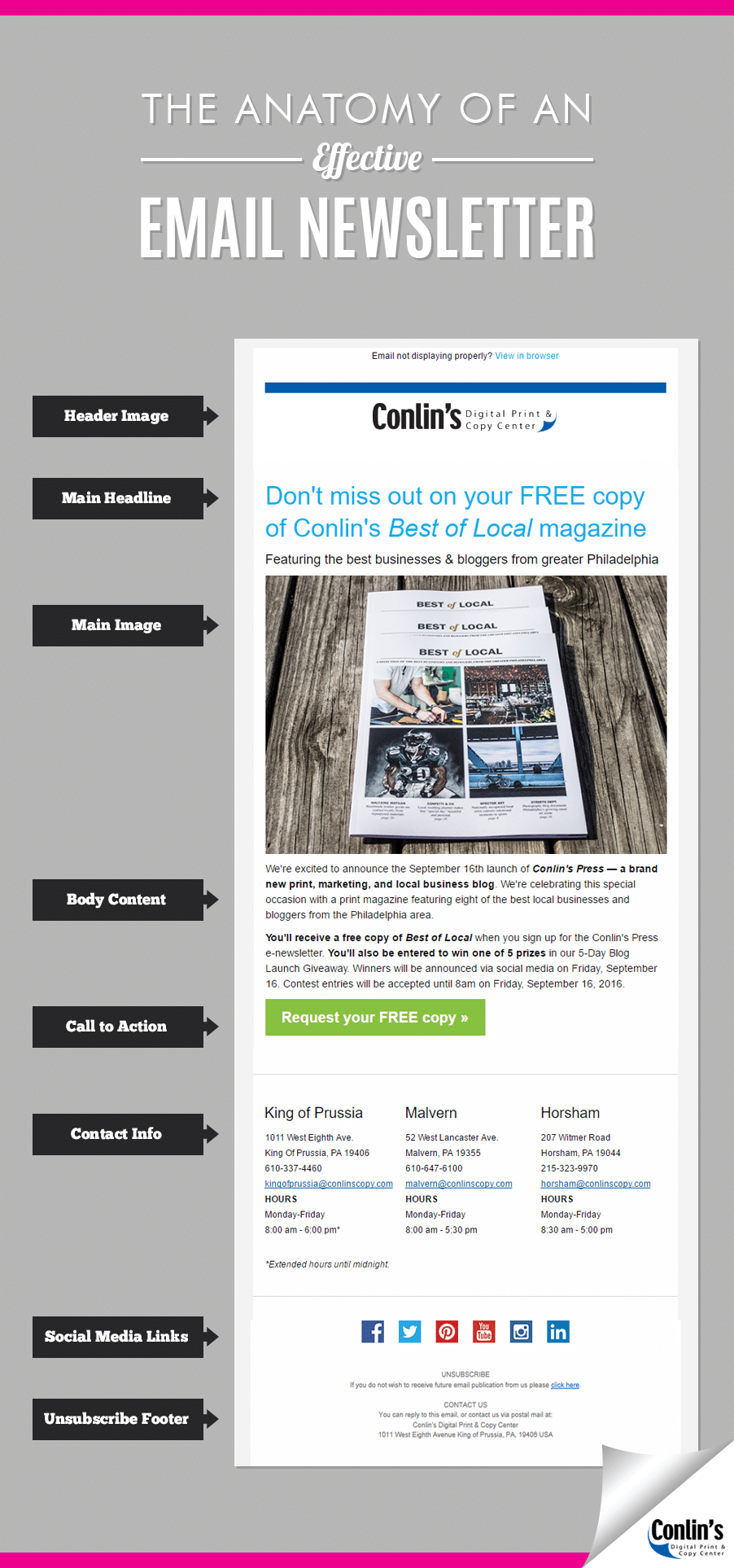 The design and content of your emails plays an important role in the effectiveness of your campaigns. Here are some tips to ensure that your email template is well-designed, your content is strong, and your campaign objectives are being achieved.
To be effective, your email needs to:
1. Use Mobile Responsive Template
65% of all emails are opened on a mobile device, so having a mobile-responsive template is a non-negotiable. If those 65-ish% can't read your email, then what's the point of sending it in the first place?
For tips on designing a responsive template, check out our post 3 Tried-and-True Ways to Design Responsive Emails That Actually Work (At Any Skill Level).
2. Have a Consistent Design That Includes Your Branding
The header should contain your logo and the template colors should match your branding. Additionally, it's important to create and reuse the same template to establish consistency. Your email subscribers should be able to identify who the communication is coming from. Switching up the design frequently is bad for your brand recognition.
3. Make Your Call-to-Action Stand Out
Your call-to-action should be clear and easy to find. We highlighted ours with a green button that makes it stand out from the rest of the text.
4. Incorporate the Following Items
Your template design should incorporate the following elements:
Unsubscribe footer: Not having one is illegal! This footer should contain your company's name and physical address, as well as a properly functioning unsubscribe link. Your email provider likely has templates for these items.
View in Browser link: You should test your email in multiple email clients to ensure it's working properly everywhere, but linking to a web version of your email is a great backup in case all else fails.
Header links to website: Always link your header and any company logos to your website.
All images are linked: Any images you use should be linked to the story or call-to-action that they correspond to. Email is a great tool for driving traffic to your website, and it's a good idea to make every image clickable.
Social links: Make sure that your social media links are included in the header, footer, or both. This is a great way to increase your followers, or at least make your customers aware that you are on social media.
Contact info: Besides the physical address that should ALWAYS be included in the footer, it's a good idea to include your phone number and/or email address in case a recipient would like to contact you directly to inquire about a service.
Personalization: It's usually a good idea to address the recipient by their first name, and most email clients provide you with the personalization tools to make this possible. Additionally, you can personalize other items in the emails – from images to content – to make them more relevant to different segments of your list.
Link tracking: If your email provider doesn't automatically track links, you'll want to find a service to do this for you. Knowing which links are the most clicked will show you what your recipients are most interested in as well as which link placements were most effective. This information will help you make continuous improvements to your newsletter.
For information on developing newsletter content, check out How to Create Effective Content for Your Email Newsletter (With Downloadable Worksheet).
Get Printspiration sent right to your inbox
Plus instant access to our FREE template library!